Solar enthusiasts rays idea of 'leccy farms on MOON, drones
And yes there will be LOTS OF LASERS to bring the power down to earth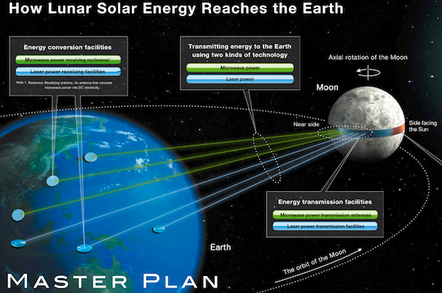 Ever since the Golden Age era of science fiction, space-based power stations have been an object of desire for lovers of the future – but they haven't eventuated, so a Yorkshire-based outfit wants to try droning its solar panels at the more manageable 15,000 metres altitude.
The idea, says the trio running the project (and about to launch the obligatory Kickstarter), is that a panel at that altitude gets enough of a performance boost from its altitude to justify hoisting it to that altitude, without the horrifying cost of launching a "solar satellite" to space.
New Wave Energy UK consists of a programmer, Michael Burdett, company secretary Vasso Chatzi, and director Penny Metcalfe.
NWE wants the Kickstarter investors to back it to create a proof-of-concept for a drone-borne solar power plant. As with the long-proposed-but-never-realised space-borne power station proposals, the company proposes using wireless transmissions to return power to the ground, and they believe a 500 MW plant would pay for itself in seven years.
If lofting the solar panels to 15,000 metres on a souped-up version of a quad-copter seems too lame, there's also a whole bunch of excitement about a Japanese company's proposal to encircle the Moon with solar power plants.
Architectural and engineering firm Shimzu might be a little bemused at the international attention this paper is suddenly getting, but the proposal does rank as pretty audacious. It calls for "electric power generated by a belt of solar cells around the lunar equator", which would be "transmitted and beamed to the Earth from the near side of the moon".
I guess it has to be both transmitted and beamed because Shimzu wants to go further than previous proposals: it would like to use both microwave power and lasers to ship all that energy back to the Earth.
The Register is happy to let the commentards decide what shortcomings may exist in pointing a bunch of Moon-based frikkin' LASERS at the world, but we would remark that the thought-bubble was published on a clearly "blue sky speculative" part of Shimzu's Website.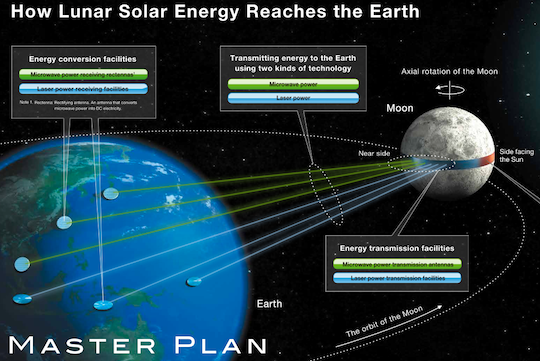 Shimzu's remote controlled power-lasers. What could possibly go wrong?
Other proposals the company toys with include a pyramid city in the air, a space hotel, and networks of artificial lakes and canals to make the deserts bloom. ®
Sponsored: Minds Mastering Machines - Call for papers now open