Half of all mobes sold in South-East Asia are now smart
That's another 350m people coming online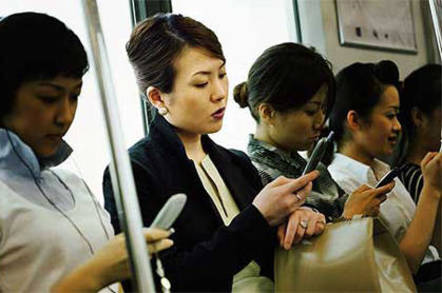 Over half of all mobile phones sold in south-east Asia are now smartphones, as punters trade their feature phones in for low-cost, mainly Android-based handsets, in ever greater numbers this year.
In the first three months of 2013 alone consumers from Singapore, Malaysia, Thailand, Indonesia, Vietnam, Cambodia and the Philippines spent USD10.8 billion (£6.6bn) on almost 41.5 million smartphone units, according to market watcher GfK.
This volume figure represents an impressive 61 per cent jump from the same period in 2012, proving momentum is accelerating.
The trend of users swapping their old feature phones for cheap smartphones is of course happening across the globe, albeit at different rates of change.
In fact, back in March IDC predicted 2013 to be the year when global sales of smartphones outpaced that of feature phones for the first time to reach 50.1 per cent of the market, with China leading the way in sales and India showing the fastest growth.
In terms of the SE Asia region, it is Vietnam (156 per cent) and Thailand (118 per cent) which grew the fastest in the first three quarters of 2013 compared to the same period in 2012.
However, Indonesia remains the regional leader in terms of value and volume sales, with user there already this year having bought 14.8 million smartphones worth over USD3.33 billion (£2bn).
In terms of platforms Android is once again the major beneficiary, taking an impressive 72 per cent chunk of the market regionally, with users in the Philippines (91 per cent), Malaysia (83 per cent) and Singapore (81 per cent) particularly enamoured with the Google-backed OS.
This is good news for the Chocolate Factory, which reaps little reward for its huge smartphone market share in China because handsets there are usually stripped of their Googliness while third party app stores dominate.
Like them or loathe them, phablets seem to be here to stay too – or at least in SE Asia – with 27 per cent of smartphones sold in the first nine months of 2013 having a screen size of 4in or above, according to GfK.
"Launched only recently around mid-2013, over 460,000 have already been sold and we will likely see greater take-up as more models enter market," noted Digital Technology account director Gerard Tan.
The trend for smartphone uptake is set to increase exponentially in the months and years to come as the other half of southeast Asia's consumers ditch their clunky old handsets, he added.
The nations named in this report are home to over 350m people. Indonesia already has more than one SIM per person. Other nations aren't far behind. Clearly this mobile internet thing and the changes it brings are going to b big! ®
Sponsored: Minds Mastering Machines - Call for papers now open