Best budget Android smartphone there is? Must be the Moto G
Motorola's cheap-as-chips assault on no-name handsets and iThings
Stunner
In a more practical context, I've spent the last week trying to find something that the Moto G can't do as well as the Sony Xperia Z1 or LG G2 handsets that I also currently have on my desk, or a chum's iPhone 5C. Allowances must be made for the Z1's 5.0-inch, 1920 x 1080 display and 20.7MP camera, and the LG's usefully augmented version of Android and infrared transmitter. But I've yet to find anything.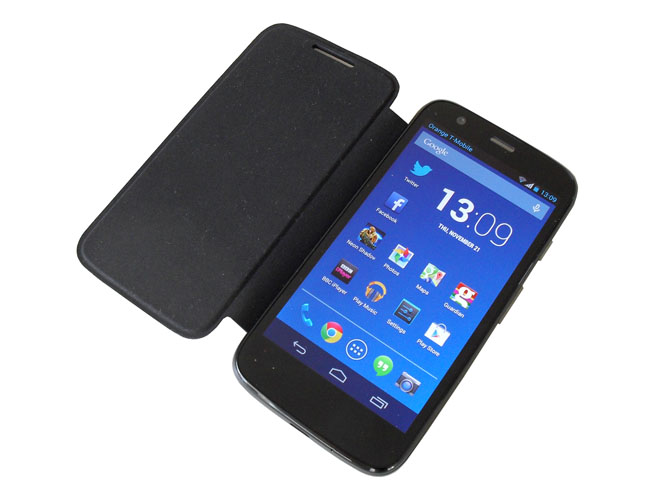 Hero in a flip shell
All the games I played - up to and including EA's Real Racing 3 - ran just as smoothly on the Moto G as they did on the Z1, and the user experience is every bit as fluid as the iPhone 5C.
Granted, the 5MP camera can't match the snappers fitted to the Z1 or iPhone, but it doesn't take a bad picture, and has a well-designed and simple user interface: all the settings sit in a rotary menu that slides from the left of the screen.
Not being a Nexus device there's no Photo Sphere mode but that's the only criticism I can make. The Lumia 520 aside, no other phone camera at this price comes within a country mile of the image quality produced by the Moto G. If you want to shoot moving pictures, the G will record video at 720p and 30fs.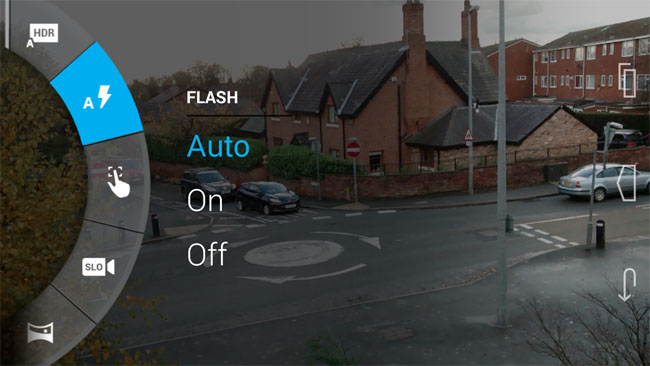 The 5MP snapper comes with an idiot-proof UI
Phone calls sounded grand thanks to active noise suppression. Wi-Fi reception and performance seemed perfectly good despite the radio being a single-band 802.11n affair. There's even an FM radio.
The Reg Verdict
It's easier to list the Moto G's failings, such as they are: a fixed battery, no 4G/LTE radio, no infrared transmitter and no storage expansion. That's really it.
In every other way – design, build, performance, software and capability – the Moto G is every bit as good as the likes of the Nexus 4 and Samsung Galaxy S3, both flagship Android devices this time last year that cost more than two and three times as much as the £135 G, respectively.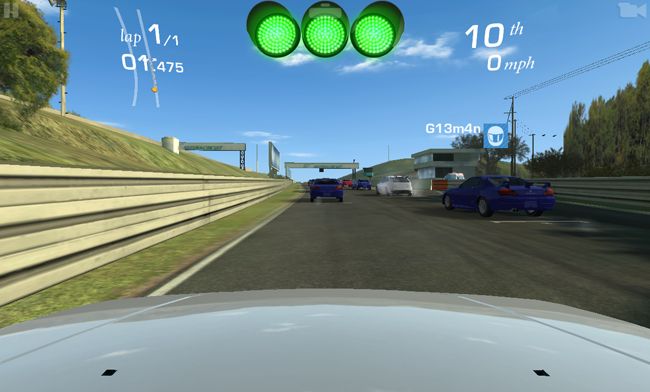 Decent Real Racing performance on a £135 phone? Oh yes
The G's price is a ludicrously small amount of money for a gadget of this quality. I'm stuck for reasons to buy anything else unless you really must have a larger screen – buy a Nexus 5 or an LG G2 – or a much better camera – go for the the Xperia Z1 or Lumia 1020.
Why you'd buy an iPhone instead, unless you are indissolubly linked to the iOS ecosystem, or suffer from advanced Googlephobia, is beyond my reckoning. ®
Bootnote
At the time of writing, Amazon UK's price for the 8GB model seems to be wavering around the £150 mark. That's odd as they are a retailer linked from Motorola UK's website and I am looking at a Motorola UK press release that states quite clearly the 8GB should only cost £135. Caveat emptor.
Sponsored: Minds Mastering Machines - Call for papers now open

Best budget Android smartphone there is? Must be the Moto G
Unless you must have a top-of-the-range brand, or a fancy camera, this really is all the smartphone you need.
Price:
£135 (8GB) £160 (16GB) both SIM-free; in the US you'll pay $179 (8GB) and $199 (16GB) RRP