Fun-killing fireshow-flunking ZOMBIE COMET ISON only LOOKED alive
Space rock just 'furious fragments', say boffins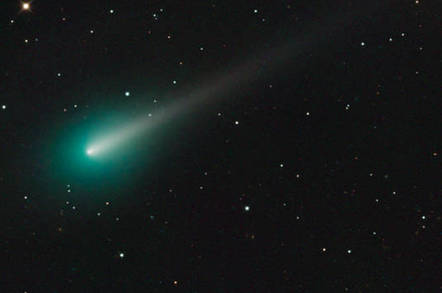 The images that appeared to capture the resurrection of Comet ISON have turned out to be nothing more than a few snaps of the space rock's ghost, as it has continued to fade from view.
After the comet seemingly came back from the dead after sputtering out just prior to perihelion*, astroboffins are now coming to the conclusion that it actually probably did die at the time – and that subsequent pics of the comet have merely captured some leftover dust.
In the most recent telegram from the International Astronomical Union, Matthew Knight of Lowell Observatory has reported the comet steadily fading after it re-emerged from perihelion, while Karl Battams of the Naval Research Laboratory says that the comet is not looking good in the Saturday images from the Solar and Heliospheric Observatory's Large Angle and Spectrometric Coronagraph (SOHO/LASCO).
"There is no visible nucleus or central condensation; what remains is very diffuse, largely transparent to background stars, and fading; it appears that basically a cloud of dust remains from the nucleus," he writes.
The scientists conclude that the comet is likely to have started fragmenting nearly 12 hours before perihelion, when a sudden surge in brightness was seen, but some of the dust particles were able to survive after it broke up, leaving behind the ghost of ISON.
The comet was supposed to put on a spectacular show in the night sky early this month, but Spaceweather.com now reckons that even experienced astrophotographers could have trouble finding its remains.
"No one knows for sure what is inside that fan-shaped cloud. Possibilities include a small remnant nucleus or a "rubble pile" of furiously vaporising fragments," the site said.
"Experienced astrophotographers might be able to capture the comet's fading 'ghost' in the pre-dawn sky of early December, but a naked-eye spectacle is out of the question." ®
* its closest pass over the Sun
Sponsored: Minds Mastering Machines - Call for papers now open