Meet the Cluster teams: Colorado and Texas
Colorado launches Mars probe, Texas stylin' and profilin'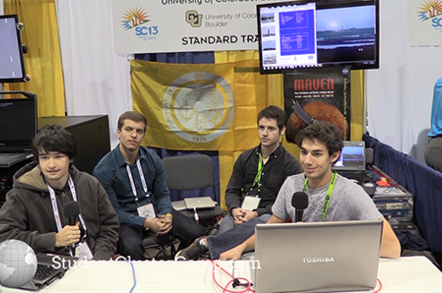 HPC blog Exciting times at the SC13 Student Cluster Competition in Denver this year. Time to take an up close and personal look at two of the most experienced teams in the competition, Colorado and Texas.
These teams have distinctly different personas. Colorado teams are usually reserved and businesslike, while Texas teams tend to be a bit more exhuberent. These teams do have one major thing in common - a long term sponsor support from Dell.
University of Colorado, Boulder: We met with Team Buffalo at a fortunate time. Why? Because they were preparing to launch and track a rocket to Mars. No kidding, a freaking rocket to Mars.
The MAVEN Mars probe was partially designed at Colorado, and one of the Team Buffalo team members needed to track and analyze launch telemetry during our interview period. So we hung around and watched the launch with them. I've said it before and I'll say it again: the stuff these kids do is just amazing.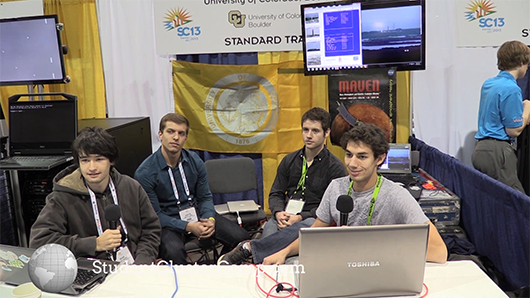 Click on the image to see the video
On the cluster side of things, the team reports that they're having just a bit of trouble getting their system up to snuff, but that the rocket launch went just fine.
University of Texas, Austin: Team Longhorn is "ridin' the line" when we catch up with them in this video. The competition veterans tell us about their system while keeping an eye on "the line" – the 26-amp mark, which they cannot exceed – during their HPC and HPL runs. They also share some wise observations about the spirit and the purpose of the competition. Plus, they're "reppin'".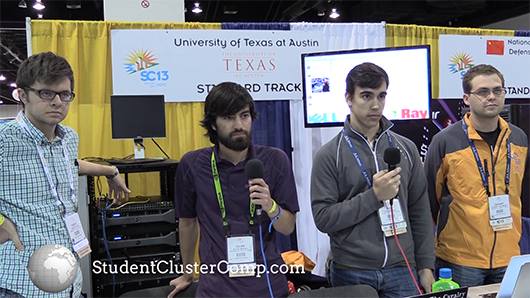 Click pic, see vid
Towards the end of the video, we hear a bit of smack talk about the Celebrity Pro-Am Cluster Challenge where a team of HPC professionals will be facing off against the student teams. As one Texas player put it "I'm not laughing 'cause I'm scared, that's for sure..."
Sponsored: Minds Mastering Machines - Call for papers now open