Samsung hauls in chiefs for 'CRISIS awareness' confab – report
Are sales of the Galaxy S4 as bad as rumors suggest?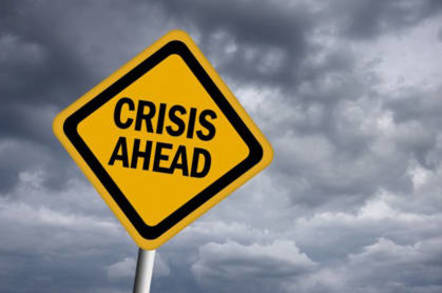 Reports have surfaced that Samsung is calling together 600 of its global managerial staff for a "Crisis Awareness" meeting to be held in mid-December.
According to an article by ZDNet Korea on Wednesday, the gathering will be divided into two groups, one being Sammy's display and Device Solutions units, the other being a confab of its IT/mobile, consumer electronics, and home appliance divisions.
There have been a flurry of reports that sales of Samsung's flagship Galaxy S4 smartphone have fallen behind expectations – a situation that one company staffer identified as a "crisis" when speaking with Korea's ETNews a few months back.
Late last month, however, Samsung CEO J.K. Shin told the Korean-language inews24.com (Google Translate) that over 40 million Galaxy S4 handsets had shipped – not sold, mind you, shipped – since it was released in late April.
In any case, firm numbers of actual sales of the Galaxy S4 are elusive – but we find it hard to imagine that sales are so bad that they have precipitated a crisis, not with Samsung and Apple together sharing 109 per cent of the feature phone and smartphone market value in the most recent quarter, a number that exceeds 100 because other manufacturers lost money during that period.
Perhaps the "Crisis Awareness" meeting is merely a "fire up the troops" tactic being employed by Samsung chairman Lee Kun-hee. A report this July in the GlobalPost noted that Lee "insists that his company remain in a state of perpetual shake-up" so that it doesn't become complacent.
We certainly doubt whether poor sales of the Galaxy Gear smart watch could be considered a crisis. Nor could the $290m in damages that a US judge ordered Sammy fork over to Apple last week to settle their patent dispute – that's chickenfeed to a company worth over $200bn.
Perhaps sales of Samsung's vacuum cleaners are tanking or their LED lightbulbs aren't flying off the shelves. We await further reports from The Land of the Morning Calm.
One final "perhaps" comes to mind. For all we know, perhaps the Korean term for "crisis" – which Google Translate helped us narrow down to 위기 – has a milder connotation than running around as if one's hair were on fire.
Should a Reg reader familiar with Hangungmal care to enlighten us, we'd be much obliged. ®
Sponsored: Minds Mastering Machines - Call for papers now open