Meet the cluster teams: Team Quokka and Team Germany
First Look at SC13 Aussie and German teams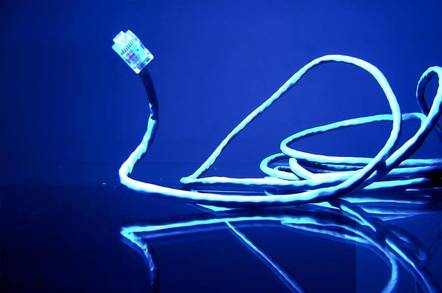 HPC blog We had a couple more first time teams competing in the Student Cluster Competition at SC13 in Denver last week. These two teams traveled overseas in an attempt to grab cluster glory and haul it back home. ('Cluster glory' will comfortably fit in the overhead bin on most airplanes.)
Team Quokka: This is the nickname for Australia's first entry into the world of international cluster competition. A quokka is essentially a Kangaroo Rat that's about the size of a house cat.
The team was put together by Western Australia's iVEC, a consortium of WA universities and other organizations dedicated to increasing HPC skills and resources in the region.
The team has a stuffed example of their mascot, dubbed Happy Cheeks, that has been prominently featured in the their steady stream of Facebook and Twitter posts.
In this video, they ply us with Tim-Tams and demonstrate their implementation of Pong while telling us about their hardware and unique file management system. We also learn that the team is sponsored by a diverse set of organizations ranging from SGI, Mellanox, and NVIDIA to mining giant Rio Tinto.
Happy Cheeks looks on somewhat impassively, but the students seem quite enthused.
Team Germany hails from Friedrich-Alexander University of Erlangen-Nuremberg.
As can be seen in the video, I have no chance at pronouncing the name of their university correctly and need to rely on one of the team members to give it the "Full German" treatment.
We also discuss their hardware selections - it's a GPU-heavy configuration, and how their low idle power consumption makes them the 'greenist' team in the Big Iron track of the competition.
You'll notice that the table in front of the team is lined with cute cat pictures from the web. Yeah, this gave me pause too. It just isn't proper fare at a supercomputer comference, right? But the team has an explanation, see if it works for you. ®
Sponsored: Learn how to transform your data into a strategic asset for your business by using the cloud to accelerate innovation with NetApp