Meet the cluster teams: Chinese Fortune Rookies, Team Venus 2.0
First look at SC13 Team NUDT and Team Pacific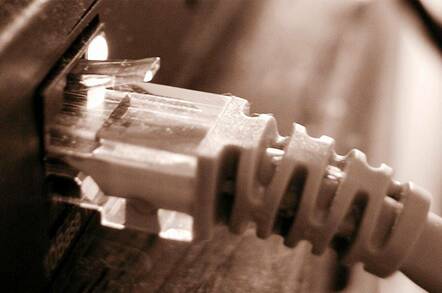 HPC blog Here's another up close and personal look at two of the Standard Track (Big Iron) teams that competed for the SC13 Student Cluster Competition in Denver crown (there still isn't any actual crown, however.)
Both teams have competed before, but they're staffed by almost completely new personnel.
National University of Defense Technology (NUDT): We once again meet and greet China's own Team NUDT. This is the school's third cluster competition, but this is an all-new group of students.
As usual, the team is sponsored and supported by Inspur, one of China's largest systems integrator and manufacturer. Incidentially, Inspur has confirmed that they will once again help organize a springtime Asian Student Cluster Competition, stay tuned for details.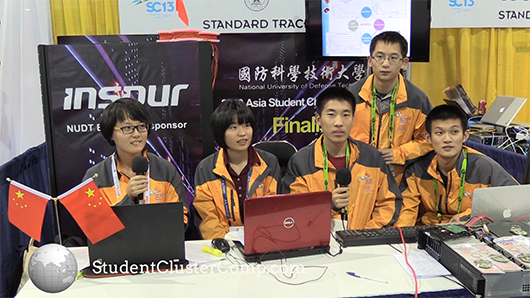 Click on the image to view the vid
In the video, the Team NUDT rookies talk in detail about GraphLab, talk about their cluster, and offer an amusing observation: I'm "funny." (Funny how?) We'll see what they think about that after a couple of days of filming.
The University of The Pacific: This isn't just any Team Venus; it's Team Venus 2.0. This is the second time the school is sending an all-female team to the SC cluster fest.
Venus 2.0 is quite a bit different than the first version. The team last year had a 'we're just glad to be here' feeling about them. The vibe this year is different, they're looking to make a name for themselves and maybe climb up the charts to become a team to be reckoned with.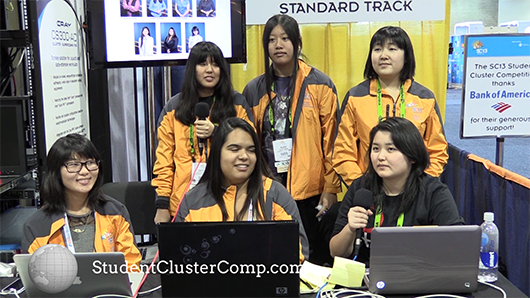 If you want to see the video, click on the picture
In the video, we learn that The University of the Pacific is the oldest public university in California. Moreover, they've earned the title (at least from me) of "the MIT of Stockton" ever since Team Venus 1.0 introduced Linux to campus in 2012. This group, which features only one SC12 veteran, also expresses confidence about the applications they faced in the competition. ®
Sponsored: Minds Mastering Machines - Call for papers now open