OpenSUSE 13.1: Oh look, a Linux with YOU in mind (and 64-bit ARMs)
Modest, reliable, not trying to be cool. Bit like Debian, then
YaST me hearties! From YCP to Ruby
Should you opt to go with GNOME as your desktop in OpenSUSE 13.1 you'll get GNOME 3.10, which has been out for a few weeks now and offers some new features that most users will already be familiar with.
Among the notable new elements are new GNOME-grown Maps, Music and Videos apps and support for the Wayland display server. GNOME 3.10 also has a new unified notifications panel which gives you control over Wi-Fi, airplane mode, Bluetooth, screen brightness and the like all in one place.
While OpenSUSE 13.1 is all about stability and speed, there is one major under-the-hood change in this release, which makes the stability all the more impressive: YaST has been rewritten in Ruby.
A favorite of system admins, YaST is OpenSUSE's administrative control panel, handling tasks such as software management, user administration, disk partitioning and a variety of other admin and maintenance tasks.
Those who rely on YaST to administer large networks have no reason to panic. OpenSUSE 13.1 hasn't changed anything about how YaST works - on the surface YaST looks and behaves just as it always has - but under the hood YaST is now written in Ruby.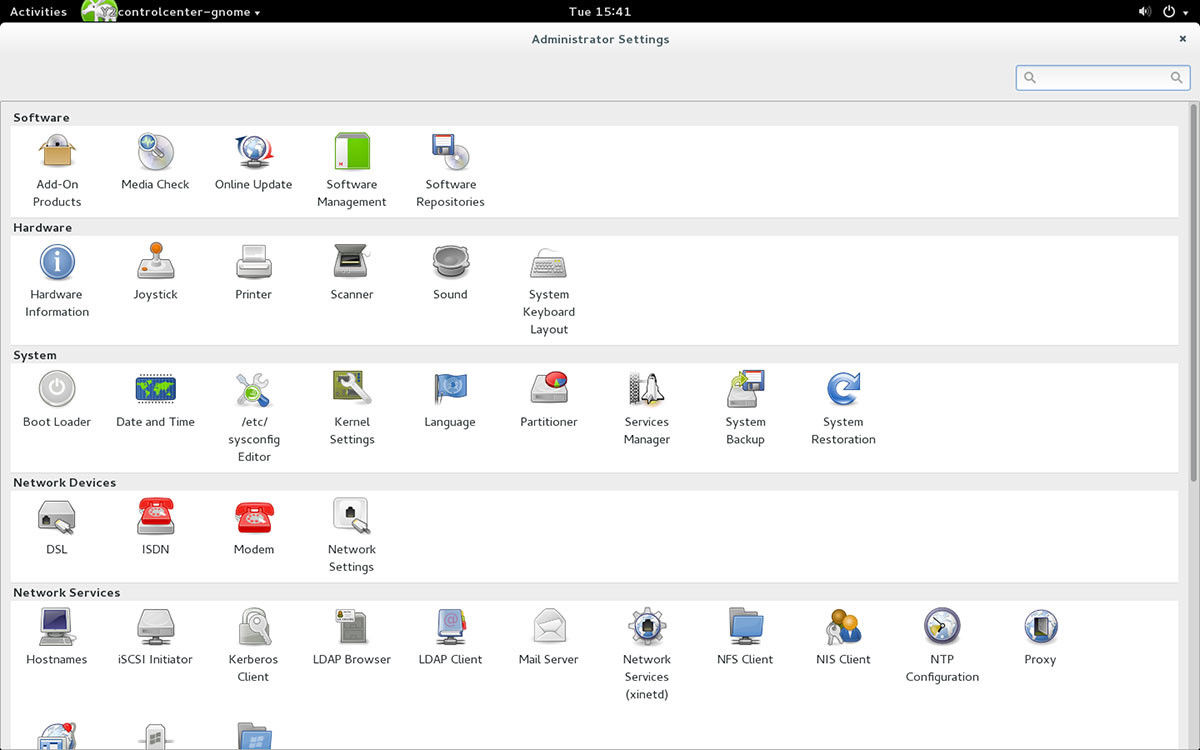 The sysadmins' favorite, YaST, has been re-written in Ruby
The move to Ruby should attract more developers. In the past, if you wanted to write any kind of custom tools based on YaST it meant learning something called YCP, a language created solely for YaST development. That has limited the number of people contributing to the project. The new Ruby-based YaST changes that and means anyone who knows Ruby can easily contribute to and even customize YaST.
Programmers have some other nice new tools in this release, including an updated version of OpenStack, the popular set of cloud computing tools originally developed by NASA. The new OpenStack, known as Havana, comes with nearly 400 new features.
Server admins get some love in this release with the latest Apache, MySQL and MariaDB updates, as well as Ruby 2.0 and Ruby on Rails 4. Also useful, OpenSUSE now ships with s3fs. That means you can now mount Amazon cloud's S3 buckets as local file systems and interact with them the way you would any other mounted drive.
This release also has some good news for anyone looking to run OpenSUSE on non-desktop hardware. OpenSUSE 13.1 offers much better support for ARM, including 64-bit ARM. That means OpenSUSE will be ready for all the 64-bit ARM devices on the horizon. OpenSUSE 13.1 brings some improvements in 32-bit ARM, and there's also now a special build of OpenSUSE for the ultra-cheap Raspberry Pi.
There's much to love in OpenSUSE 13.1 and if you're tired of your current distro, this release is worth a look. OpenSUSE feels like a distribution designed with the user in mind rather than one focused primarily on running on the coolest new gadgets.
The OpenSUSE release announcement claims: "While a combination of over 6,000 packages supporting five architectures can never be perfect, we're proud to say this really does represent the best free software has to offer."
It's a bold claim, but spend a little time with OpenSUSE 13.1 and you just might find yourself agreeing. ®
Sponsored: Minds Mastering Machines - Call for papers now open