HP storage bods: We're not up there with EMC, but we're CRUSHING IBM
Though Big Blue's revenues have plunged quite a bit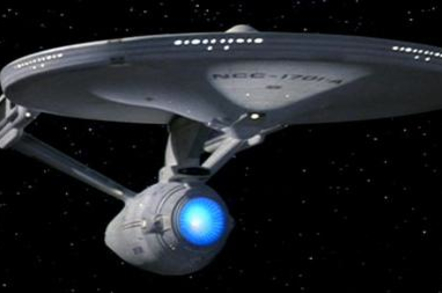 HP's annual storage sales are growing much faster than IBM's, but are eclipsed by the revenue growth of storage front-runners EMC and NetApp.
Stifel Nicolaus MD Aaron Rakers has computed the annual percentage change in storage revenues for the companies and we charted his numbers: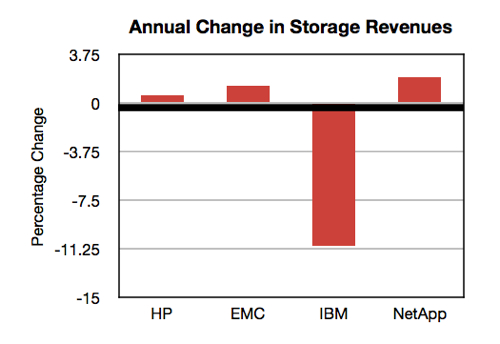 IBM is a relative disaster with an 11 per cent decline in storage revenues from the third calendar quarter of 2012 to that of 2013. NetApp did best with a 2 per cent rise. EMC was next with a 1.3 per cent increase, while HP languished with an 0.6 per cent rise.
Dell is not in this chart because it has just gone private. On the basis of Raker's figures for the previous quarters we suspect Dell would show a decline in storage revenues over the same period as the others.
As the chart below shows, HP's storage revenues of $958m picked up in the quarter, its fourth fiscal 2013 quarter.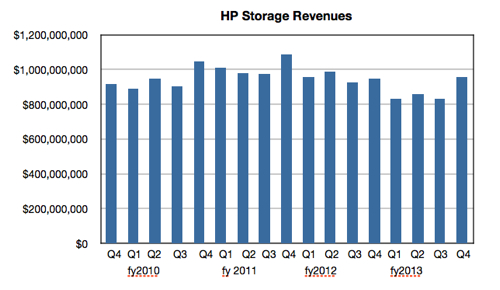 HP storage revenues to Q4 fy2013
A year ago they were $946m, meaning a rise of 1.3 per cent in the period, and 15 per cent higher than the third fiscal 2013 quarter.
Converged storage systems (3PAR, LeftHand, etc) grew a lovely 47 per cent to $407m while traditional (EVA-class) storage declined 19 per cent to $545m - still the bulk of HP's storage sales. Maybe there will be a cross-over next quarter.
HP said 3PAR revenues grew 46 per cent over the period and Rakers noted there was strong growth in the mid-range and high-end. HP's management expects to see stronger storage growth in its fiscal 2014 year.
HP traditionally shows a fourth quarter uptick in storage sales – check out the chart. It's too early to tell if this uptick will be sustained into the first quarter of HP's fiscal 20124 or not.
Overall, storage was 13 per cent of HP's Enterprise Group's revenues, with ISS (industry standard servers) being 45 per cent, tech services 29 per cent, networking 9 per cent and business-critical systems (Itanium-class stuff) just 4 per cent.
Looking ahead El Reg's storage desk is looking to see how HP storage responds to the growth in all-flash arrays; server flash; the fast-growing hybrid storage array triumvirate of Nimble Storage, Tegile and Tintri; and cloud storage and gateway kit like the offerings of upstart Nasuni.
HP should remember that in storage, innovation wins, and a winning storage starship Enterprise must "boldly go* where no man has gone before." You have got everything to play for. ®
* El Reg's forums are home to multiple (closed) threads arguing over the split infinitive in the Star Trek motto, but do feel free to chime in.
Sponsored: Learn how to transform your data into a strategic asset for your business by using the cloud to accelerate innovation with NetApp