Dropbox is most pleasurable storage cloud for the old in-out
Boffins analyse cloudy contenders' overheads and put Amazon last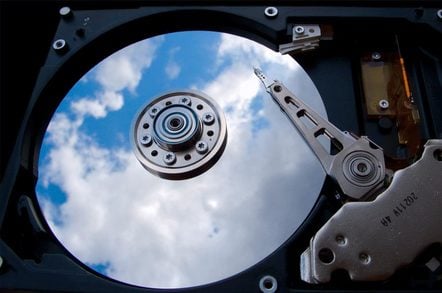 Boffins from the University of Twente and the Politecnico Di Torino have run the rule over five consumer-grade cloud storage services to see which performs best in terms of the load they impose on machines running them.
While the researchers consider the five services they tested – Dropbox, SkyDrive, Google Drive, Amazon Cloud Drive and Lacie's Wuala – to be consumer services, the first three offer the same client for personal or business use, hence our interest in their research.
The study ((PDF) admits to some flaws, especially that its tests took place from one location in Europe. But the authors also offer the Python scripts used to create the study, a nice touch.
The study finds that Dropbox's client offers more bandwidth-minimising tricks than the other four providers' desktop wares. The worst performer is Amazon's Cloud Drive, which the boffins conclude delivers "... bandwidth wastage … an order of magnitude higher than other offerings, and its lack of client capabilities results in performance bottlenecks." The service also "... shows even more overhead – i.e., more than 5 MB of data are exchanged to commit 1 MB of content."
Worst of all, Cloud Drive's authentication routines see "polling is done every 15 s, each time opening a new HTTPS connection. This notification strategy consumes 6 kb/s – i.e., about 65 MB per day." That's right – 65 megabytes per day of chat between client and server.
That's no reason not to consider AWS' other cloudy storage offerings, which rely on different means to access its cloud, but does make Cloud Drive something smart sysadmins will eradicate.
By contrast, the other services tested poll their servers far less often and send much less data when they do so.

And the best-specced cloud storage client is ...
The study also finds that data centre location is an important consideration. Europe-based Wuala performed well because of the shorter distance between the testers and its data centres. Dropbox's west-coast-only locations – or presentation as such, given it lives in Amazon S3 – made for lesser performance. Google's massive number of edge locations lowered its latency and made for the best performance.
By the study's conclusions, Dropbox emerges on top even though it routes all its data through the USA. The service's crown is derived firmly from the many data-crunching features in its client.
Does this result make Dropbox a viable NAS substitute, especially now that its client can manage a personal and business account? That's for you, dear readers, to decide and discuss. ®
Sponsored: Minds Mastering Machines - Call for papers now open