Thanksgiving ROAST in SPAAACE: Comet ISON faces FIERY SUN DEATH
Boffin gives it 40 per cent chance of return trip, but it'll be a heck of a show if it dies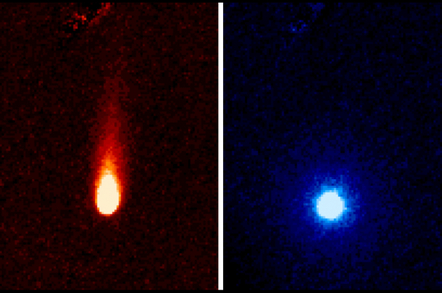 On November 28, while many Americans will be sitting down to roast turkey and all the trimmings, Comet ISON faces being slowly cooked to death as it passes within a million miles of the Sun's surface.
Now a top expert says the cosmic snowball has a less than fifty-fifty chance of surviving the encounter.
"It's going to get heated, it's going to get stressed by the solar gravity, many of us think it's going to break up into pieces, some people think it won't survive at all if it's too small. Other folks think it will come back out again," said Carey Lisse, senior research scientist at Johns Hopkins University's Applied Physics Laboratory.
"If you want to ask me as a betting man, I think mostly the comet is falling apart a bit but there's a big chunk still there. I think it's going to make it to the Sun, I think we're going to have a fantastic series of images from solar telescopes and I think we'll see beautiful streaking comets that will flare up and burn away."
Speaking at a NASA press conference on Tuesday, Lisse said that as a poker player he assessed the odds of ISON surviving its solar orbit at 30 per cent, but later amended that to 40 per cent when pushed on the matter.
The comet is a relatively loose bundle of snow and dust, he said, probably around two thirds of a kilometer across at this stage. Unusually it appears to be mainly formed from carbon dioxide, whereas it was thought the simpler carbon monoxide would have been more prevalent.
ISON is the most studied comet in NASA's history according to Jim Green, director of NASA's planetary science division. Since it was first spotted in September, ISON has been studied by Earth and orbital telescopes, as well as by the Mars Reconnaissance Orbiter, the Messenger probe orbiting Mercury, and – if the snowball survives – the outgoing MAVEN spacecraft will also take a look.
NASA reports that all this telemetry has shown ISON is something rather special. The comet originated from the Oort Cloud, a loose collection of comets on the very edge of the Sun's gravitational field that are left over from material that didn't make it into becoming part of a gas giant.
This is almost certainly the first visit for the comet, based on the extreme attitude of its approach track, and it will have started falling towards the Sun more than a million years ago, well before mankind even came down from the trees. If it survives the solar orbit it will head back out to the Oort Cloud and is unlikely to return.
If the comet does break up as it swings by the Sun that might be the best outcome for viewers here on Earth. Lisse said the remnants would create "beautiful feathering" over the sky around in the second week of December and the best time to view the remains will be at around 5am, or 7pm, when looking from the Northern hemisphere. ®
Sponsored: Minds Mastering Machines - Call for papers now open