Boffins baffled after Sun fails to fry satellites
Current sunspot cycle producing mere pimples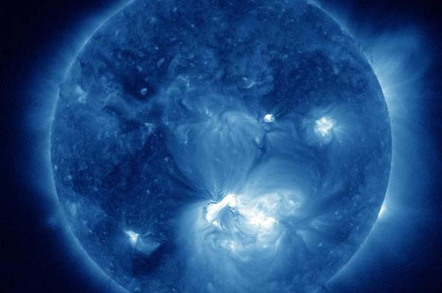 Predictions from 2011 that sunspot cycle 24 would be a fizzer are turning out to be optimistic.
In fact, what's eventuated from Sol has been even weaker than anticipated – which is good news for satellite electronics and communications channels, but has NOAA physicist Doug Biesecker among the many experts indulging in a certain amount of head-scratching.
Biesecker told AFP the current cycle is the weakest in the half-century since the space age began.
The weakness in the cycle was first noted after the end of Cycle 23 in 2008, when the next cycle was slow to ramp up. In the year after December 2008, there was a period of 266 days without a sunspot, which led to the prediction of a weak Cycle 24.
However, even the prediction at that time that Cycle 24 would peak at 90 sunspots per year has turned out to be optimistic. Bieecker says the peak, last year, was 67. Compared to the Cycle 23 peak of 120 spots, that's tiny: the last time astronomers saw such a lame cycle was nearly a century ago in 1906, at 64 per year.
It's not the only puzzle the Sun is setting: it's also undergoing a magnetic field reversal, something that signals the peak of a cycle, but the two poles are out-of-sync. While the Sun's north pole flipped more than a year ago, the south pole is running late – which means both have the same polarity.
Beisecker isn't excited about the idea that the weak sunspot activity would do much to fend off global warming, and he is keen to avoid talk of a "new ice age": "Things have not started to cool, they just have not risen as quickly," he said. ®
Sponsored: Minds Mastering Machines - Call for papers now open