Hooters, shooters and looters: Eidos's Tomb Raider
Thanks for the mammaries, Lara Croft
Bristol fashion
Tomb Raider also upholds the long-running tradition of secret areas tucked away within platforms, or disguised by hidden entrances, with a special ditty playing when you stumble across one. Of course, it's detail like this that gives the title replay value, while being essential fodder for school playground chit-chat too.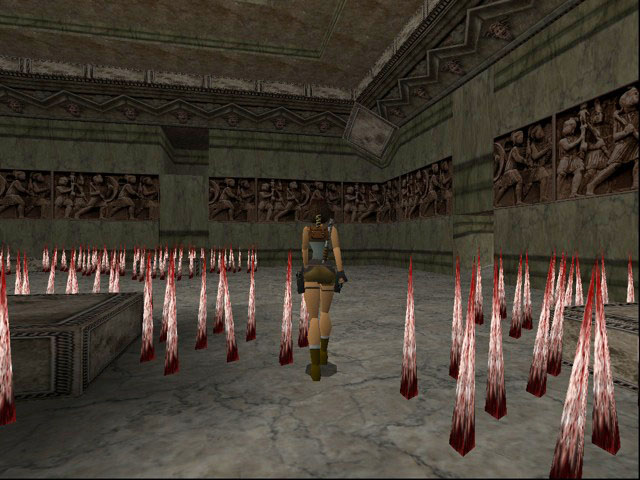 Spikes, Harvey Rotten
Lara can be switched into gun mode at the touch of a button, with a pair of pistols drawn and automatically pointed at baddies, fulfilling the age-old popular fetish of girls and guns. From Uzis to sub-machine guns, plenty of weapon upgrades can be picked up along the way, though it's worth noting that Tomb Raider's kill count throughout the game is not especially high – this is a thinking sweaty teenager's game, after all.
The absolute glut of Tomb Raider titles that followed the initial release shows just how much of a goldmine the Lara Croft business machine became. There were three more full titles for PlayStation and PC, with game designers quite sensibly taking the attitude of 'if it ain't broke, don't fix it' – though there were at least some new moves for Lara, some different inventory items to play with and some new cosies too.
Further titles were produced for the PS2 and Xbox generation and, since 2006, development duties shifted from Core Design to Crystal Dynamics. With publisher Eidos being bought out by Square Enix in 2009, the 2013 reboot of Tomb Raider – featuring a younger Lara of less buxom stature – had a manga-esque quality that one suspects was designed to appeal a little more to the Japanese origins of its new publisher.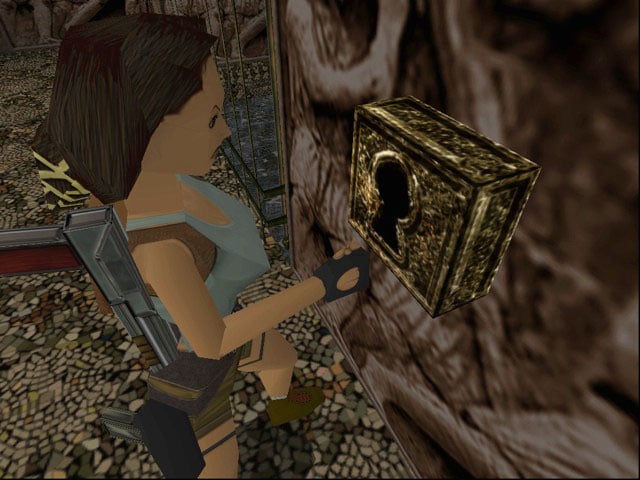 Ah, the missing key graphic glitch
In a testament to the fondness that fans have for the original game, Tomb Raider XTra is a project that started life in 2003 to offer new and improved texture-maps for the original Tomb Raider.
The game needs to be run through Glidos, a DOS emulator that supports the Glide API used back in the days of 3Dfx graphics cards. A few different artists have contributed textures, and Glidos allows the game to display at an improved 1600 x 1200 resolution. Certainly, it gives the title an extra shot of modernity, and if anything it shows that those late 1990s level designs and gameplay can still cut it compared with today's efforts.
Indeed, while it wasn't the only title to do so, the original Tomb Raider unquestionably pushed the boundaries of action/adventure gaming back in 1996, and it's of course pleasing to remember that this all came out of a British development house.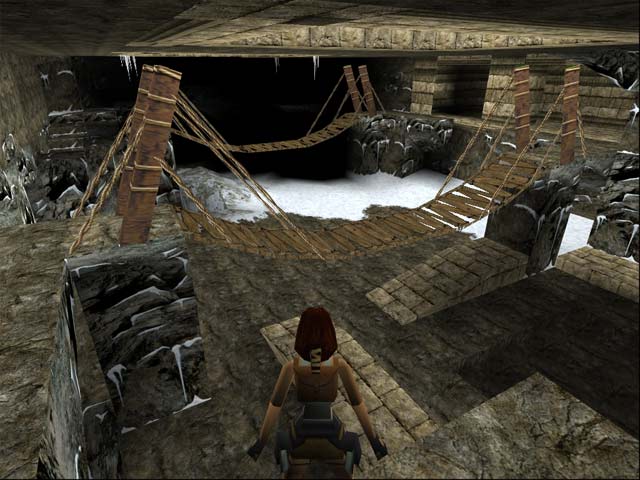 Tomb Raider Xtra added smart hi-res textures
The way Lara Croft became a successful, globally recognized brand – appearing on Lucozade ads and on glossy Sunday colour supplement covers – was a truly breakthrough piece of game marketing. If you'd told Core Design that their title would lead to a movie grossing more than any previous videogame film – and would star Angelina Jolie – they'd have taken you for a lunatic.
Yet the wryly brilliant thing about it is this: however hard game designers try to replicate that success, however hard they market-research and attempt to plug into current trends, they rarely, rarely achieve that goal. The title was a sheer fluke piece of ass-jigging, breast and gun-toting game design that managed to hit a certain sweet spot at a particular point in time.
Coupled with the PlayStation, Tomb Raider proved that computer games had huge appeal to that nicely disposable-income laden demographic of teenagers and young adults.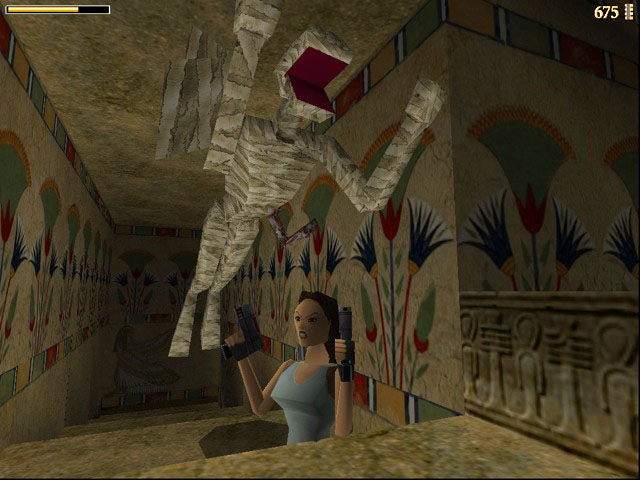 Tough opposition
No doubt, Miss Croft will be re-badged and rebooted for many years to come. ®
Released 1996
Developer Core Design
Publisher Eidos Interactive
Platforms PC, Sega Saturn, Sony PlayStation, Mac
Sponsored: Minds Mastering Machines - Call for papers now open