Pro-fibre-to-the-premises protestors call NBN Day of Action
Marches to deliver petitions to MPs' offices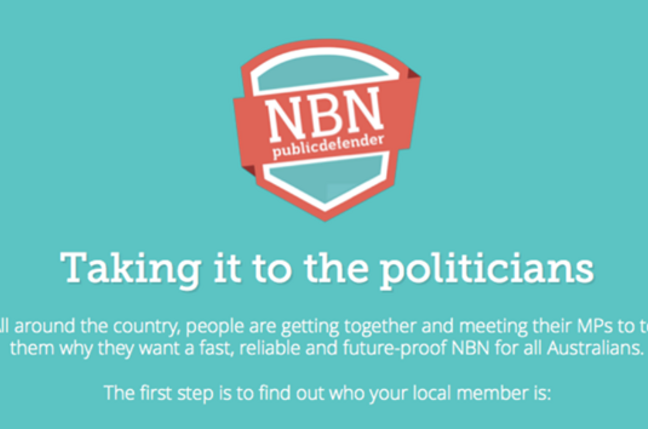 Doing anything next Tuesday, November 26th?
The folks behind the crowdfunded ad campaign calling for the retention of fibre-to-the-premises (FTTP) as the main component of Australia's National Broadband Network (NBN) build have chosen that day to deliver the 270,000-signature petition they've amassed in support of the cause.
The plan seems a little loose at present, with a Facebook page the main effort. The page calls for protestors to arrange visits to the offices of their local member of Parliament on November 26th to hand over the local portion of the petition.
One group has done so already and reports a polite reception at the electoral office of National Party leader and deputy prime minister Warren Truss, where a staffer didn't rule out a future meeting.
That's not a stellar result, but the Facebook page is starting to sprout event invitations to other MP office visits.

Get thee to an electoral office
Despite securing over 200,000 signatures more than it hoped to and also smashing a crowdfunding target for ads, the movement to preserve FTTP isn't chalking up wins with Australia's communications minister Malcolm Turnbull, who this week once again spelled out his reasons a fibre-to-the-node build offers a cheaper and faster NBN build that can cope with future bandwidth consumption demands. ®
Sponsored: RAID: End of an era?