Sweet little lies: Rumours from the flash world reach El Reg's scribe
LSI redundancies, new IBM array, and what's Dell up to?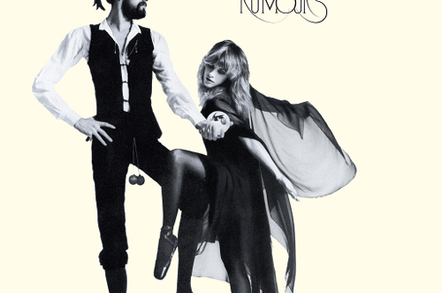 Blocks and Files Rumours was a great Fleetwood Mac album to listen to. Now hear this: El Reg's Storage Rumour Control has three good ones (rumours, not Fleetwood Mac albums – sadly) for your delight.
The first is that IBM is developing a full DS-class flash array using FlashSystem (acquired TMS RamSan) technology. The flash modules would be installable in the DS8870. First customer ship could occur as early as Q1 2014.
Note that, according to a 2013 IBM Red Book, current FlashSystems need IBM's SVC to add:
Thin provisioning to allocate storage "just-in-time"
Improved utilisation to harvest all SAN capacity
Disaster avoidance with location-proof data availability
Easy Tier for storage efficiency
IBM FlashCopy for point-in-time copies
Mirroring and copy services for data replication and protection
Real-time compression to place up to five times more data in the same physical space
Deduplication doesn't seem to be available.
FlashSystems are faster than can be obtained by stuffing SSDs in a storage array's disk drive slots because, IBM says, they have a hardware data path and not a software one like the SSDs in their host array.
Raw FlashSystems seem to compare unfavourably feature-wise with EMC's XtremIO and Pure Storage's Pure System. SVC-wrapped ones compare much better.
We have asked IBM about the DS-class FlashSystem development notion and will update this story if we hear anything back.
LSI Nytro splutters
Our second nugget is that LSI is laying people off in its flash/Nytro PCIe card unit due to much lower than hoped-for sales.
In the earnings call Abhi Talwalkar talked of "sluggish growth and in some cases, a deceleration of growth in our end markets versus expectations several months ago. … in flash controllers, we believe our revenue will trough in Q4, and we will soon benefit from a new product cycle based on our third-generation SandForce flash controller."
He added: "Our overall flash - aggregate flash - this year will grow nearly 10 per cent for the full year over last year, certainly below the expectations that we had coming into the into the year … And at the very beginning of the year, we expected growth to be closer to 35 to 40 per cent."
We could see how a near 30 per cent fall in flash sales growth could trigger some workforce reductions.
El Reg asked LSI for comment and its response was: "There is no statement or confirmation to your question at this time."
Private Dell steps out
And our third explosive revelation? Dell's Alan Atkinson, a VP in its storage business unit, told Reg Oz that the largest-ever EqualLogic announcement is imminent and Fluid Cache 2.0 is not that far away.
In March this year Dell announced Fluid Cache for DAS 1.0. This offering combined Fluid Cache software, PowerEdge servers with Express Flash PCIe flash drives, and optional PowerVault storage to deliver performance improvement for Linux-based applications.
We expect Fluid Cache 2.0 to link Compellent arrays to servers so data from the arrays can be automatically loaded into server caches. Fluid Cache will span multiple servers and provided an aggregated and coherent cache. Windows server support may come with it.
The current EqualLogic PS arrays have a 5-product line-up:
PS6500 enterprise
PS6110 enterprise 10GbitE
PS6100 enterprise 1GbitE
PS4110 SMB 10GbitE
PS4100 SMB 1GbitE
There are also EqualLogic blade arrays, with a mix of SAS hard drives and SSDs, used for consolidating servers, storage and networking for scalable, virtualised data centres.
El Reg's storage desk thinks an all-flash PS version is one possibility, together with larger capacity drives and controller processor updates. We might also see the ability to replicate and snapshot between EqualLogic and Compellent arrays; storing EqualLogic snapshots on Compellent for example.
We should hear more at the Dell World event, December 11 in Austin. Reg Rumour Control out. ®
Sponsored: Minds Mastering Machines - Call for papers now open