Kaminario in amazeballs all-flash K2 streaming-storage benchmark brag
From now on, you'll need solid state to beat this thing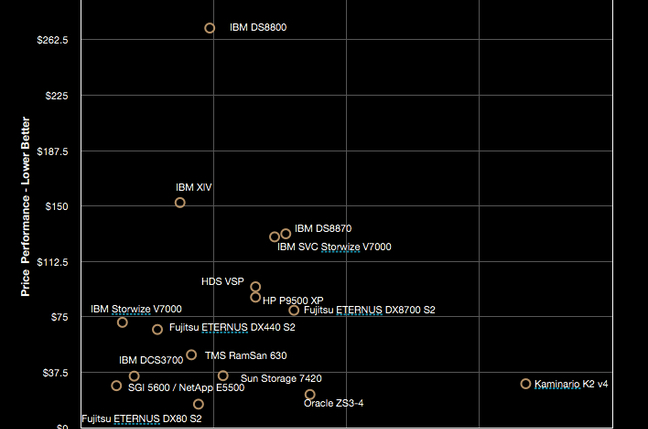 Kaminario has taken the SPC-2 streaming storage benchmark, shook it hard, wrung it out, and left everyone else for dust with its K2 all-flash array, with a result nearly twice as fast as the previously top-ranked Oracle ZFS array.
The SPC-2 benchmark tests a storage array's streaming IO performance whereas the companion SPC-1 benchmark tests random IO performance. Kaminario's K2 v4 array beat everyone else on that benchmark recently. It used the same configuration device, with SanDisk SSDs, on the SPC-2 test and scored 33.477.03 MB/sec with a price/performance of $29.79/SPC-2 MB/sec.
The top streaming data results are:
33,477.03 - Kaminario K2 v4
17,244.22 - Oracle ZFS Storage ZS3-4 (2-node cluster)
16,038.74 - ETERNUS DX8700 S2
15,423.66 - IBM System Storage DS8870
Kaminario's has the fastest streaming data flash box on the block, but not the most cost-efficient. It is rated only eighth in the price/performance list:
$15.97 - SGI InfiniteStorageTM 5600
$22.53 - Oracle ZFS Storage ZS3-4 (2-node cluster)
$25.10 - NEC Storage M700
$26.70 - ETERNUS DX80
$26.76 - DS3524 Express Turbo
$28.48 - ETERNUS DX80 S2
$28.57 - SGI InfiniteStorage 5500-SP
$29.79 - Kaminario K2 v4
$34.96 - IBM System Storage DCS3700
$35.24 - Sun ZFS Storage 7420
We charted some of the different vendors' MB/sec and price/performance numbers to provide a graphic comparison. Goodness - the fastest performance and lowest price - is located in the lower right corner: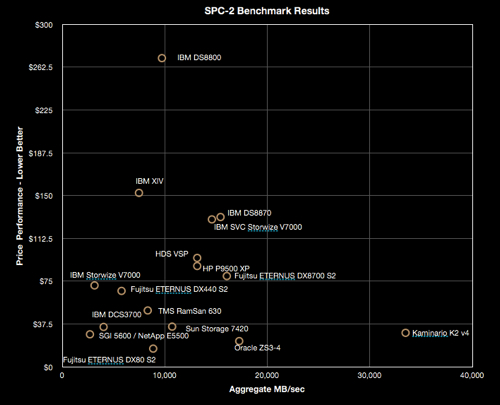 Kaminario K2 v4 SPC-2 result. Click pic for bigger version
As the chart shows, Kaminario is way out on a performance limb and it is extremely unlikely that any disk drive array could catch it. The road to SPC-2 performance is paved with solid state storage from now on. ®
Sponsored: RAID: End of an era?