Space tourist Dennis Tito begs US to BANKROLL HIS manned Mars flyby
A public-private partnership, with the emphasis on the public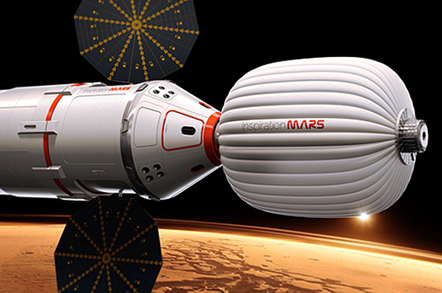 Multi-millionaire investment manager, and world's first space tourist, Dennis Tito has been testifying before the US Congress about his plans for a 501-day trip around Mars and back.
He says he'll need government money to meet the planned schedule of a 2018 launch.
On Wednesday, Tito published plans to send an older couple, preferably husband and wife, on a jaunt around the Red Planet that would pass within 100 miles of the Martian surface. The mission wants to use an uncommon alignment of the planets to speed up the trip, and Tito told the House Science Subcommittee on Space that to do so he'll need some help from NASA.
The plan calls for NASA to loft the main part of the Martian spaceship using its yet-unbuilt Space Launch System (SLS) heavy lift rocket. A second launch of the two-person crew could be carried out by commercial space companies, which would also provide the reentry vehicle to bring the couple back to Earth.
Assuming a trans-Mars injection burn on January 5, 2018, the couple could arrive at Mars by that August, surviving on packaged food and water and using their own feces as a radiation shield. If all goes well the couple would splash down in the Pacific on May 21, 2019, and Tito says it's imperative America makes the trip before somebody else does.
"If I may offer a frank word of caution to this subcommittee: The United States will carry out a Mars flyby mission, or we will watch as others do it – leaving us to applaud their skill and their daring," he said in a statement [PDF]. "If America is ever going to do a flyby of Mars – a manned mission to another world – then 2018 is our last chance to be first."
Tito's team described the Mars mission as a "public/private partnership," but it's clear he expects the bulk of the funding to come from NASA in terms of rocket development, contributed technology (such as the urine recycling system as used on the International Space Station), and orbital engineering expertise. Some funds from private investors will also be added he said.
But NASA's been decidedly tepid on the project so far, in part because the mission doesn't accomplish much. Sure, flying around Mars would be an achievement, but it would tell us almost nothing useful about the Red Planet, and it would be a very fleeting visit. Considering the estimated billion-dollar price tag that's a very poor return on investment. ®
Sponsored: Minds Mastering Machines - Call for papers now open