RIP Frederick Sanger: Brit bio-boffin who pioneered DNA sequencing dies
Two-time Nobel Prize winner led genome research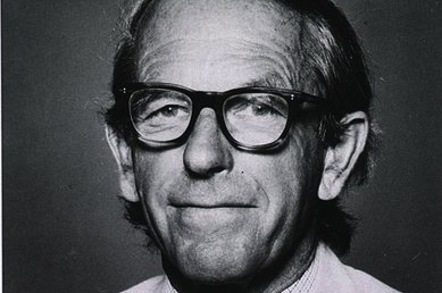 Famed British biochemist Frederick Sanger has died peacefully at a Cambridge hospital. He was 95.
Sanger, a two-time Nobel laureate, was best known for his contributions to breakthroughs on research on the proteins that form DNA and the sequencing of genomes, the genetic information encoded in an organism's DNA. He also developed a widely used method for sequencing the human genome.
Born in Gloucestershire in 1918, Sanger grew up as the son of a doctor and attend university at Cambridge, studying medicine and, more specifically, biochemistry. Sanger would go on to specialize in the study of proteins which are on the building blocks of life.
"I was probably above average but not an outstanding scholar," Sanger would say of his early studies.
"Initially I had intended to study medicine, but before going to University I had decided that I would be better suited to a career in which I could concentrate my activities and interests more on a single goal than appeared to be possible in my father's profession."
In 1958 Sanger earned his first Nobel Prize in chemistry for work he contributed on the sequencing of proteins in insulin. Some 22 years later, Sanger won a second Nobel gong for his work on sequencing proteins and helping to decode genomes.
Sanger would retire from his work three years later, and in 1993 he would open a research center bearing his name: the Wellcome Trust's Sanger Institute, which contributed to the Human Genome Project. You can read about his pioneering work in Francis Spufford's The Backroom Boys: The Secret Return of the British Boffin.
"Fred was an inspiration to many, for his brilliant work, for his quiet determination and for his modesty. He refused most invitations for interviews, but often helped schools and students," said Professor Sir Mike Stratton, director at the Wellcome Trust Sanger Institute.
Sanger spent his final years at his home in the village of Swaffham Bulbeck. He is said to have died in his sleep at Addenbrooke's Hospital in Cambridge.
"Scientific research is one of the most exciting and rewarding of occupations," Sanger said in his 1980 Nobel Prize acceptance speech.
"It is like a voyage of discovery into unknown lands, seeking not for new territory but for new knowledge. It should appeal to those with a good sense of adventure." ®