NBN Co to test basement fibre for offices, apartments
Mal the Builder's henchman explains faster build for slower network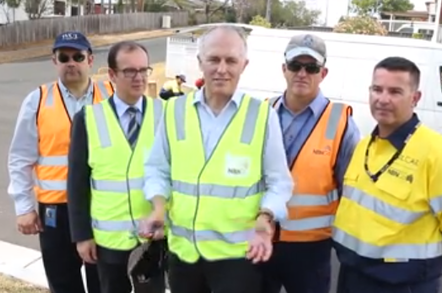 NBN Co has announced a test designed to get it around one of the thornier roadblocks in its rollout, the handling of offices and apartments.
The company rolling out some kind of national broadband network to Australia has announced that it will trial taking fibre as far as the basement or comms room of the building, and leave the last few feet to others. NBN Co has announced that it's issued invitations to ISPs to take part in a trial covering 1,000 premises in multi-dwelling units and offices.
The company is now wrangling with its location data to work out which apartments and office towers will get the three-month trial.
News of the project emerged a day after NBN Co's executive chairman Ziggy Switkowski challenged the idea that Australians would need 100 Mbps in the foreseeable future.
Asked by Senator Scott Ludlam about the upgrade path for an FTTN rollout, Switkowski told Senate Estimates that the real question is "for what reason an upgrade would be advised".
"Can [fibre to the node], for a considerable time, satisfy the needs for Australian users? The upgrade path for a fibre to the node network takes you through 10-25 Mbps on to 80 Mbps, and if you want to go to G.Fast, hundreds of megabits a second in the years ahead", he said.
"So maybe I would rephrase the question: do you think for the next decade, which is probably as far as one can think, reasonably, there will be a situation where a significant upgrade from fibre-to-the-node to fibre-to-the-premises will be justified and required, there is a good chance that the answer to that is 'no'," Switkowski went on.
While avoiding reading directly from Mal the Builder's playbook, he continued: "At the moment, you need to stress a whole lot of assumptions to demonstrate how a normal household would use a hundred megabit per second broadband service, through the various devices that are normally found in today's and tomorrow's household."
"We've got to be very careful about making decisions today that have, associated with them, enormous cost, enormous execution challenges, because we think that in ten years' time, there are going to be particular applications that will require just that form of delivery."
Ludlam also noted that NBN Co will have to "get its skates on" if it's to deliver the FTTN network promised for 2016.
The Register notes that if both HFC and fibre connections are included, around 20 percent of today's Internet users in Australia have connections that are 100 Mbps-capable. ®
Sponsored: Minds Mastering Machines - Call for papers now open