First 3D map of Great Barrier Reef created – still can't find Nemo
German/Australia satellite bathymetry project dives deep, maps 30m below surface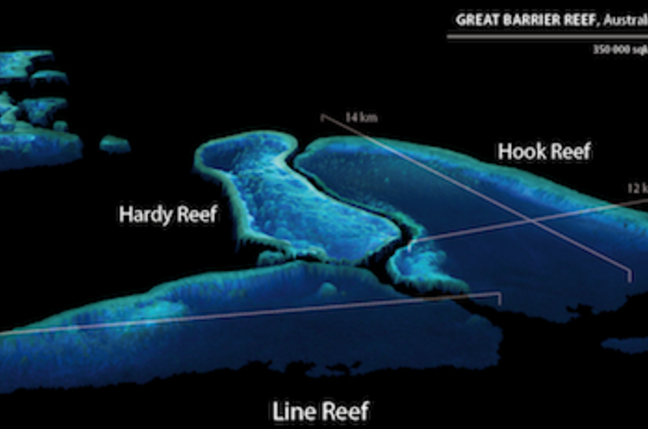 German company EOMAP and researchers from Australia's James Cook University and University of Queensland have produced the first underwater map of the Great Barrier Reef.
The 2600-km long collection of reefs is world heritage listed, a colossal tourist magnet and also an increasingly important – and contentious – shipping route. While the reef has been extensively mapped, no comprehensive digital data set of its features had previously been created.
The new maps, some of which can be seen in the promotional video below, cover 350,000 km2 of the reef and nearby areas. Importantly, they also offer 3D representations of the reef to a depth of 30 metres.
To create the maps, EOMAP and James Cook boffins relied on satellite bathymetry, a technique that analyses the wavelengths of light present in satellite photography to allow interpretation of water depth. Once processed, the results look like the image below. EOMAP has also posted this video offering another look at the maps.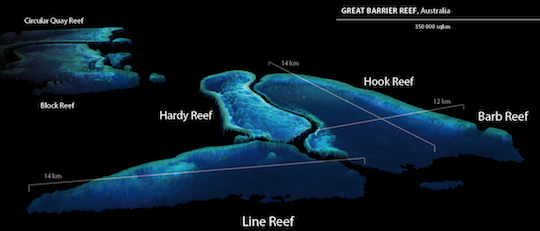 Where's Nemo? Pixar's famous fish isn't quite visible on EOMAP's new 3D version of the Great Barrier Reef
The resulting dataset is now a commercial product that, sadly, has a $US500 minimum purchase. EOMAP will probably find buyers at that price, as Professor Stuart Phinn of the University of Queensland, another partner on the project, decrees in the canned statement announcing the project that "This information is regarded as essential for any government or company involved with managing the reef environment."
With Australia more than keen on keeping the reef in good health so tourists continue to flock there, and miners hoping to send more coal-laden ships to Asia on routes that pass through or close to the reef, buyers should not be hard to come by. ®
Sponsored: RAID: End of an era?