Samsung pulls Galaxy S3 update as users moan: It's PANTS
Batteries sucked dry and mobes bricked, say mobe owners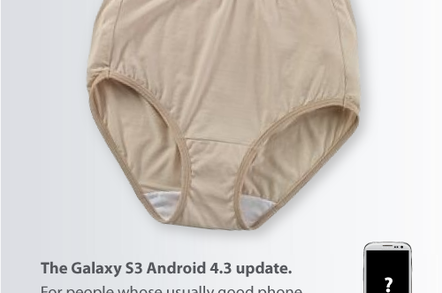 Samsung has suspended the Android 4.3 software upgrade for Brit Galaxy S3 owners after the over-the-air update borked a bunch of mobes.
Irate Galaxy users took to the usual forums to complain noisily about the screwy upgrade, which has apparently been draining batteries like water through a sieve, kicking apps to the kerb and bricking phones all over Blighty.
One of many twitterers cried:
@SamsungMobileUK update to 4.3 is draining battery, freezing unlock screen and messing up my alarms!! When will it be sorted?!
Another user posted to the firm's UK Facebook page daring to compare the Korean firm to Apple:
Samsung's so-called apology is derisory to say the least. I can't even answer a call now or a txt message. Music will not play and the camera is useless. I have to recharge mine 3 times a day and it constantly freezes. It's a £500 coaster at the moment!

I think a trade-in idea would go some way to apologising for this fiasco. I know the very same thing happened with the Apple iOS earlier this year. They did the same and pul;ed [sic] the update. The difference being they had it sorted in 3 days. This has been going on for 2 weeks now! Heard trying to roll back to 4.2.2 will more than likely cause more problems than it solves. We will have to reluctantly wait till Samsung Mobile UK gets it sorted!
Meanwhile, mischief-makers over at MoreComputers.com used Samsung's new underwear ad for its Galaxy Gear smartwatch as ammunition for this spoofed version: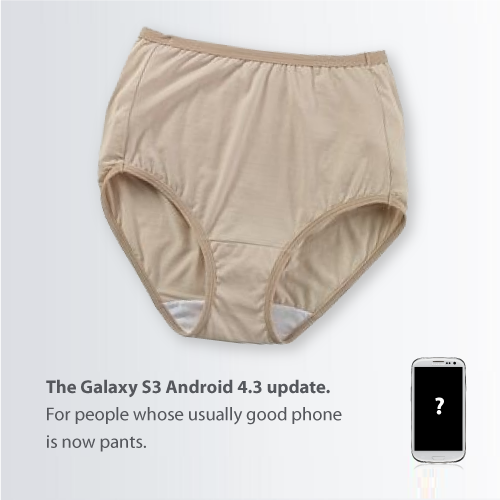 Samsung UK had posted a rather more flattering underwear ad on its Twitter feed at the weekend, telling famously trouser-shy Miley Cyrus to consider the Gear as it was good "for performers who usually have no pockets for a phone".
On the failed update, Samsung UK has resolutely stuck to the same line - that it's still investigating the issues and will update users when it knows anything. ®
Sponsored: Learn how to transform your data into a strategic asset for your business by using the cloud to accelerate innovation with NetApp