Barclays says soz for titsup website, bank app
'Isolated server' blamed for web wobble, cause of app crap 'unknown'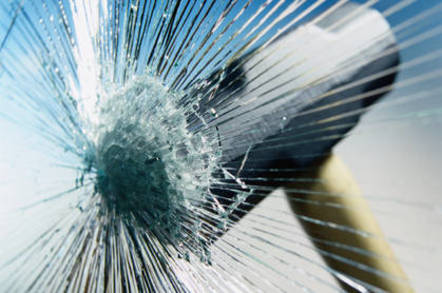 Barclays UK has spent this morning on Twitter apologising to customers frustrated by a crashed banking app and online outage that occurred over the past two consecutive days.
The bank turned a day of rest - for most of us anyway - into a stress-fest for its loyal punters who woke up on Sunday morning unable to use the mobile app.
The PR team, which has gone into overdrive today, told us the first outage was planned just not for as as long as it occurred - from 2.30 am until 1pm
"Maintenance took longer than we anticipated," said the Barclays mouthpiece, adding, "We have no further details."
Customers then enjoyed more than a whole day's uninterrupted service before the online antics began again yesterday evening for three hours from 8.30pm GMT.
"We experienced an isolated server problem last night that was quickly resolved," the Barclays PR man said.
Not quickly enough for some customers' taste. Those disgruntled folk took to Twitter to complain about the downtime and what they saw as a lack of updates from Barclays.
User Emma Davis suggested to the bank: "Some comms would be good! Sadly, best laid plans to avoid charges elsewhere required payment tonight".
Another customer, Peter Ryan - not the HP EMEA MD - said he too had been unable to log in, quipping: "Could really use some kind of life sign from you guys".
Julian Thomas said "it's 2013" and asked "how does this still happen? Where is your fail safe? Time to switch banks?"
Sadly other banks are not immune to the odd bit of unscheduled downtime.
Barclays did tweet about its digital woes when the problems arose last night, saying it was working to restore services and apologising for the inconvenience.
The spokesman said it took to Twitter to "alert customers as quickly as possible", and the team have been apologising to individuals all morn.
The fact is that users want issues rectified immediately in the online world and a regular commentary on what is being done to fix the situation.
Steve Brazier, CEO at channel analysts Canalys, said at its annual forum in Barcelona last month, that businesses need to become digital "24 hours a day, seven days a week".
He used an example of a disgruntled BA passenger in the US that lost his luggage and bought a promoted Tweet that went viral and ran while the airline's comms team slept.
"BA does customer service by telephone and operates European hours, this went all night without BA being aware of what happened. They need to become a digital company, the old world no longer applies," he said. ®
Sponsored: Minds Mastering Machines - Call for papers now open