Apple BIGGEST LOSER in Blighty's Battle of Fondlers
Growth of 8% in Q3? Hardly growth at all for Cupertino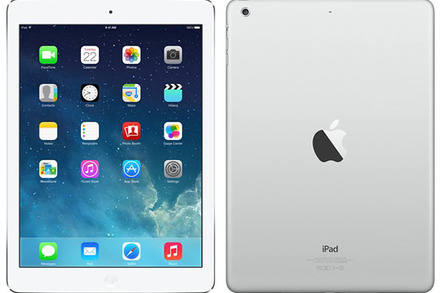 A tear in the space time continuum caused slab sales growth to slip in Q3 – or perhaps it was just that retailers and distributors decided to order fewer ageing devices ahead of planned product refreshes.
It is indeed more likely the second issue: limited tablet shipments into the UK channel meant that we saw just 2.63 million units during the quarter, representing a rather more modest year-on-year rise of 39 per cent.
This is still the sort of growth that would make PC sellers wet the bed with excitement, and indeed during the same period IDC reckons sales of notebooks and desktops declined 15 per cent.
"The growth for tablets slowed in Q3, as many vendors will only release new devices in Q4 in time for the holiday period," said IDC European research analyst Catherine Lowry.
The biggest victim of this was a certain fruity chump chomp vendor, Apple, whose sales grew by just eight per cent to 933,000 units. This was more iPads than it sold a year ago, but overall tablet shipments have grown from 1.89 to 2.63 million slabs, meaning Cupertino's piece of the pie has shrunk by 10 points to 36 per cent market share.
"Apple's new tablets shipped from Q4, so [we expect] much stronger growth in the next quarter for them," said Lowry.
Pretender to the crown Samsung was still a long way off Apple in the UK slab domination ranks, but sales climbed 87 per cent to 414,000 units, giving it a market share of 16 per cent.
Amazon sneaked into the top three on the back of a 127 per cent growth in sales to 367k devices, grabbing a 14 per cent share of spoils.
"We are seeing that the UK is still predominantly consumer-driven, however there is slow but steady growth in the commercial space," said the IDC analyst.
The "other" section, which makes up the rest of the slab sales from other vendors, grew 43 per cent to command a 35 per cent market share. ®
Sponsored: Minds Mastering Machines - Call for papers now open