Malcolm Turnbull's website makes funny Facebook fan numbers
Mal the builder 'reboots' NBN debate by proclaiming copper revolution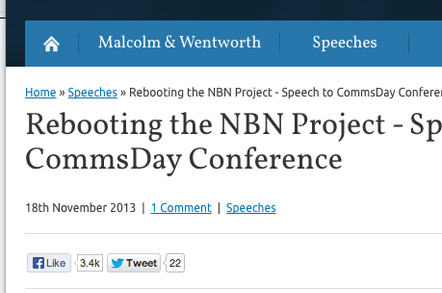 Australia's communications minister Malcolm Turnbull has once again outlined how everyone - his predecessors, the press, people who disagree with him - have messed up Australia's national broadband network.
A speech he delivered yesterday to the NBN Rebooted conference offered a spirited defence of his position that fibre-to-the-node won't need future overbuild and therefore isn't wasteful. Relying on Cisco's predictions for future network traffic requirements, he said "in the past five years we have seen an explosion in new techniques for wringing higher data rate broadband out of copper telephone wires" and proclaimed "a revolution in the way copper is used" has taken place in the last five years.
And now an aside: as we looked around Turnbull's site, we couldn't help but notice that just about everything on it reports 3,400 Facebook Likes, but many fewer Tweets. For example, this press release and this speech farewelling Kevin Rudd and this blog post have all garnered 3,400
Making things even odder is the fact that Mal the Builder's Facebook presence gets nowhere near as many likes for his output.
But when we looked at the freshly-posted speech it had hardly any Likes.
Here's exhibit A: A screen shot of the Like and Tweet count on malcolmturnbull.com just a few minutes after he posted the text of his most recent speech. You'll see the system clock at top right.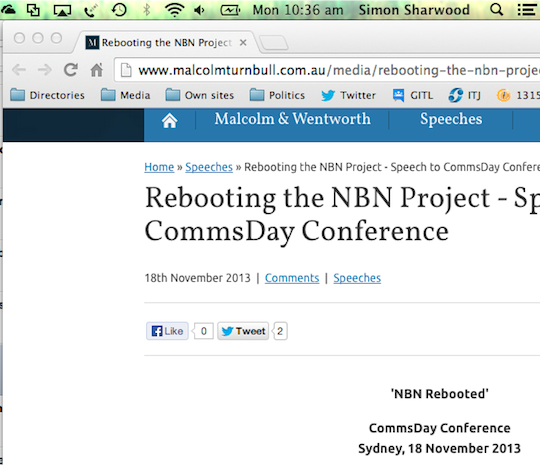 Here's exhibit B: the same screen shot, around 45 minutes later.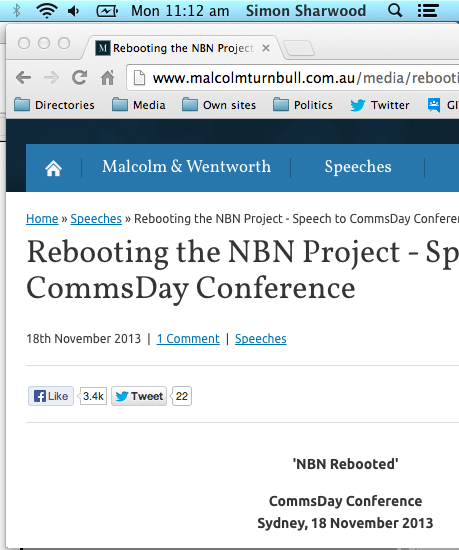 We think we've figured this out: there's one Like button for the whole site, but Tweets are counted separately for each page.
Not a big mistake, to be sure, but an unfortunate one given Turnbull has spent so much time complaining about the way his predecessors count the success of the NBN.
So back to the speech, which concluded with a warning that "None of this will be easy, however, and I expect we will suffer occasional setbacks along the way. You can't expect a turnaround of this magnitude to unfold without a hitch."
"But I am cautiously optimistic about the NBN, for the first time in its four and a half years of existence," Mal the Builder concluded. "We are assembling the right team and the Strategic Review will help us frame the right plan. But please remember what I said at the outset – building an NBN that works isn't a matter for Government alone. I need your help, your expertise and wisdom, your advice, and your patience." ®
Sponsored: Minds Mastering Machines - Call for papers now open