Services fuel the next generation data centre
It's more than just boxes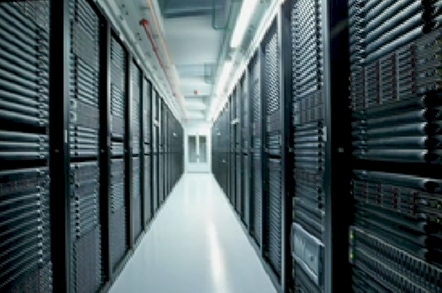 In its basic form, a data centre is just a big room full of cages and cabinets, with highly reliable power, efficient security, fire and flood protection and a variety of internal and external network connectivity.
In recent years providers have tried to differentiate their offerings but there is not really that much you can do to dress up what is basically a big noisy room. So for "cold aisle technology", for instance, read "we have improved the airflow a bit".
How, then, can data centres evolve into anything better? Simple: if there is not much you can do with the environment, develop what you can do in that environment and what you can connect it to.
Keep it private
If you are a data centre provider with multiple premises, you have the opportunity to provide high-speed physical links between locations.
Giving your customers the ability to extend their LAN between premises has huge benefits for their disaster recovery strategies and capabilities: with a low-latency physical Gigabit Ethernet link between your premises you can do real replication.
If your data centres are not close to each other, though, point-to-point links are too costly. One alternative is to look at a layer 3 offering – managed MPLS services are ten-a-penny these days.
The emerging concept, though, is the virtual private LAN service, or VPLS. This is a virtualised layer 2 service – think of it as a virtual LAN switch in the cloud, into which you can plumb your endpoints.
VPLS is less well known but the concept has been around for some time. Just as we now have the word "cloud" to refer to managed services that we have had for years, the idea of a virtual layer 2 service came along long before most of us (myself included) had heard of VPLS.
Back in 2009, for example, PacketExchange (now part of GT-T) was offering me the ability to have a VLAN connecting my data centre in Jersey to my data centre in India, another connecting Jersey to the London office, another providing a "dirty" internet service, and so on.
The trouble with layer 2
There is, of course, a fundamental problem with VPLS. In fact, on reflection, there are two.
The first is that if layer 2 were a good way to do wide area networking (WAN), we wouldn't bother with layer 3 in any of our WAN applications. Layer 2 is brilliant when you want to connect A to B in a point-to-point sense because it gives a native connection to the endpoints that looks just like they are plugged into the same LAN switch.
Move a box to the other end of the link, plug it in, and it will still work (as long as you have not broken your database mirroring by messing up the latency figures, of course).
The big problem with layer 2 networks is broadcast domains. A layer 2 network or VLAN is a single broadcast domain, and if you suddenly connect five distant things together via VPLS you have made yourself a great big broadcast domain whose traffic levels grow exponentially as you introduce new nodes.
Connect three offices at 10Mbps and two data centres at 100Mbps (a fairy typical starting point) without enough thought, and a broadcast storm on a data centre edge port will wipe out your offices' connectivity. Not great.
So what you will end up doing is putting in layer 3 transit networks to control the traffic flowing over the VPLS network and restrict wide area layer 2 operations to the devices that really need to talk natively at layer 2 to their distant counterparts.
And if you are thinking this is a slightly odd approach, so did I, so I checked it out with someone who works with VPLS networks. "Yup, that's how I'd do it," he said.
The second issue is that a VPLS service will, by its nature, operate over some kind of layer 3 (IP/MPLS) network. So in the scenario above you are running layer 3 on a layer 2 tunnel that is established through a layer 3 network, which sits on top of layer 2 technologies.
So yes, it may well be slower than just having a boring old MPLS network in the first place.
Sponsored: Minds Mastering Machines - Call for papers now open