'Scientists are coming to space with USBs which are infected'
Plus: 'Microsoft you got some splaining to do'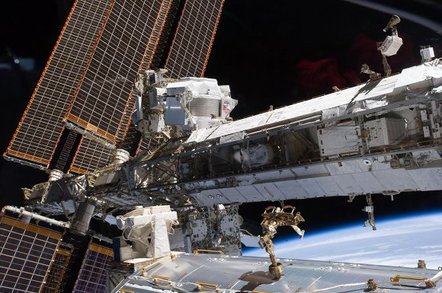 Quotw This was the week when marketing for new games consoles the Xbox One and the PS4 really went into overdrive. Microsoft are hoping to steal a march on Sony by getting its Xbox out a little earlier, but hit a bit of a snag when some of the consoles went out way too early.
The Ones are supposed to ship on November 22, a week before the PS4 launch, but a few users got their machines this week, leading to Microsoft's ill-advised decision to ban them.
Twitter user @Moonlightswami gleefully changed his username to "#1 Source 4 XBOX ONE" when he got his console, but was soon feeling put out with Microsoft after it booted him off the Live network. He tweeted:
And now my console is banned. Interesting. Legally purchased game, and system. @Microsoft you got some splaining to do.
Microsoft blamed a retail partner for the cockup, but ruthlessly decided to keep all early consoles offline until the official release date:
Due to a retail partner's system issue, a very small number of Xbox One consoles were shipped to consumers before the 11/22 street date. We're pleased to see the initial response to Xbox One has been so positive, but given we are still putting the finishing touches on our games, UI and online services, as well as confidential partner and media agreements, these console units will be restricted from connecting to Xbox Live until closer to our launch date.
Meanwhile, "Mr Playstation" - Sony veep of R&D for the console - Dominic Mallinson has admitted that the company stretched itself a little too far with the PS3. That machine was designed around its Cell processor, but Mallinson said that its architecture turned out to be a mistake:
Unfortunately it was complicated to use. It had many distributed memories requiring [direct memory access] and synchronization, and the developers found it really tough to get to grips with.
It's fair to say that we did spread ourselves a little bit too thin, and just tried to do 'only everything'.
Although, of course it's still a great console and any users should be more than happy with it:
But don't get me wrong. The PS3 is a great product and a great success – but it caused us to stop and think. And we learned a lot of lessons, and some of those lessons we've applied now in our design of the PlayStation 4.
This was also the week when Google+ tried, partially successfully, to insinuate its presence in places on the internet it had never been before. RSS-gathering service Feedly was the first to try to compel the Choc Factory's presence, by suddenly – and without warning – asking its users to sign up with Google+ IDs. They were not impressed:
I was very, very happy with Feedly, but if I need a google+ profile — which I don't have and don't want to have — for signing up… I won't use feedly anymore. Bye bye feedly.
At first, Feedly pleaded with its users, begging them to see that it was a good idea really:
This transition opens the door to interesting opportunities like simpler login across devices - and a lot more.
But within a few hours, it had capitulated:
Thank you for the feedback regarding Google+ Integration.

The fact that the change is forcing users to create a Google+ profile and that Google+ is not available in some companies and on some Google Apps domains outweighs the benefit of being about to login more seamlessly across devices (Android).

So we are going to rollback the Google+ login change in a few hours.
YouTube commentators were similarly peeved when that site started requiring Google+ logins, although since it's owned by Google, it's unlikely to backback on the feature as Feedly has. One of the original YouTube creators Jawed Karim put it very succinctly (or was hacked) when he said:
why the fuck do i need a google+ account to comment on a video?
Over at Microsoft, Windows Azure general manager Mike Neil has been laying some truth down on El Reg about the massive outage that evaporated its cloud at the end of October. With fluffy wisdom, he said:
There are three truths of cloud – machines will fail, software has bugs, people will make mistakes.
More technically, Azure was laid low when Microsoft changed the "Red Dog front end" (RDFE), which provides the publicly exposed management portal and the service management API. After unleashing the change on a small number of nodes without incident, the firm extended it out and customers started having trouble. The key problem was that although the fault didn't affect everyone, it did cause disruption across the world, turning into a single point of failure. Neil said:
One of the most difficult problems for us to address which creates a single point of failure in the system is the software itself.
Eugene Kaspersky of Kaspersky Labs was also laying down some truth this week, telling folks in a speech that the mystery malware that ended up in space five years ago has been identified as a gaming Trojan. The security expert said the infection was everywhere and had even ended up on Windows machines aboard the International Space Station (ISS), an outcome that apparently isn't all that uncommon:
Scientists, from time to time, they are coming to space with USBs which are infected. I'm not kidding. I was talking to a Russian space guys and they said from time to time there are virus epidemics in the space station.
Sponsored: Minds Mastering Machines - Call for papers now open