Post-Profit Prophet RUSSELL BRAND is the HUMBLE CHRIST of STARTUPS
The more I lose, the richer you get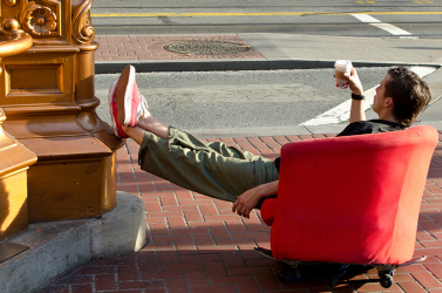 ¡Bong! Some news events are so momentous they instantly become burned into the memory - as irreversibly as an iOS firmware upgrade. For example, I'll never forget where I was when the Berlin Wall came down.
I was still a schoolboy: in prep school in Geneva, trying to buy heroin. But 23 years later, everything about that day comes flooding back to me so vividly.
Achtung Baby... "We are a Grandmother"… Ninety Nine Red Balloons, Floating In The Summer Sky. (Thank you for that timeless classic, Nico!)
Or .... was I actually in Goa, trying to buy heroin? Never mind. The Wall had came down, and Es Tut Mir Leid, Herr Dumpty, we will not give you Planning Consent to put it back up again.
It wasn't all good memories, though.
When my father, the financier and diplomat Gilbert Xavier de Bong was a schoolboy, his own father had caught him smoking. In the family tradition, he sat his son down with a full packet of cigarettes and made him smoke each one, until the packet was empty. He matched him smoke for smoke. It worked, and Papa never touched a cigarette again. So imagine my discomfort, then, when my father paid me a rare and unexpected visit to the boarding school in Geneva, only to catch me with several back copies of Color Climax. Let's just say the next two hours were rather excruciating for both of us.
But I digress.
In the years to come, we'll look back on the autumn of 2013 as equally historic and epoch-defining. Thanks to two people.
First, there was Russell Brand's electrifying, unifying declaration about profits. "I say profit is a filthy word, because wherever there is profit there is also deficit," said the Bard of Essex.
Here was one generation of popular entertainer speaking truth to power – or more precisely, to an a slightly older TV personality.
Some people argued this was hypocritical. Brand needs money too, they said. Of course he does. He needs to buy eyeliner and sex toys as much as the next former Radio 2 presenter. But what Brand was saying was that there is more to life than vulgar Mammon. You can Exit before achieving a successful Business Model.
The other historic contribution came from Emily Bell, a visionary who brought gurus like Jeff Jarvis and Clay Shirky to advise The Guardian newspaper – so it could make its historic pivot from an analogue era print dinosaur into a data-driven coffee chain of one.
"Costs are no longer tied to the ebb and flow of market revenue," wrote Bell, describing how the Guardian was not a business any more, but "an intervention". Lots of similar interventions, she wrote, were creating "an irrational market for journalism".
Brand and Bell. Think Watson and Crick. But social.
Now if you can't make head or tail of Bell - if it sounds like a chimpanzee drawing words at random out of a hat - then I think you're missing the other vital ingredient.
Brand explained that a central administrative committee dividing up the world's resources was the next stage in human evolution - beyond the sham of democracy we have today. But to get there we would need to reach a state of higher consciousness. This is something I have sought myself, most recently by sniffing 3D printing polymers straight off the print head.
Here is Russell explaining it to the always sensible political philosopher Alex Jones. And on a YouTube channel devoted to expanding your cosmic consciousness.
So how can we make this happen? Well one way is to start lots of companies that never make money, then direct the power of the state to support them. Nothing is fairer than spreading the "cost" of an unprofitable business equally throughout the community.
Think about it.
If what Russ says about profits is true ("there must be a deficit"), then the opposite must also be true. Where there is a loss, then everyone gains a little surplus. The more money I lose, the more you make. I'm basically stuffing money into your pocket.
Brand and Bell's revolution is already under way. But instead of the Berlin Wall coming down, it's the Pay Wall that's coming down. ®
Steve Bong (official title: Lord Bong of #businessmodel) is the founder of Bong Ventures, an early stage investor and incubator focussing on innovative new technology start-ups based in Shoreditch, London. When he's not helping rear the next generation of business models, Steve enjoys parties, foreign travel, extreme cuisine, Open Data and draws his inspiration from Ayn Rand and His Holiness the 14th Dalai Lama. He advised (then hired) No.10 policy guru Rohan Silva on mindfulness and innovation, Mark Zuckerberg on the Perfect IPO, the Republic of Kazakhstan on emergent social media strategies, LOCOG on brand enforcement, and imagineered the Olympic Opening Ceremony with Danny Boyle, Shoreditch's #guardian coffee coffee shop with Jemima Kiss, and was the social media consultant for Edward Snowden and Lady Thatcher's Funeral. A recent attempt to arm the Syrian rebels with iOS7 sadly failed, however. At the personal invitation of Kim Jong Un, he is a strategic consultant on the Nextification of North Korea. Steve wants to pivot the BBC into the 22nd Century, blue-skying its hugely successful Digital Media Initiative, and advises the UK Government on icon design and the new National Curriculum. He favours Small Government but Large Catapults, and wants more taxpayers engaging in Ambient Crowdsourcing.
Start planning for the post-profit era! Join Steve's COSMIC ECONOMICS MASTERCLASS @BongVentures on Twitter.
Sponsored: Minds Mastering Machines - Call for papers now open