HP goes fishing for a UK storage boss, hooks HDS sales director
Restructure, restructure, restructure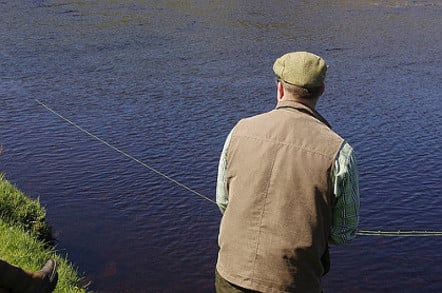 Updated HP has raided Hitachi Data Systems UK and snapped up director Nick Venables to run its local storage division, following a recent shake-up of the team.
Warren Duke, the former head of storage at HP, was made channel boss of the business unit at the start of this month, among numerous other changes within the Enterprise Group.
HP confirmed the move but is still scratching around for a further statement.
Venables is due to start next month amid talk of HP expansion plans, with channel sources whispering that the firm will recruit between 20 to 30 per cent more specialists to the team, boosting its numbers to 40.
3Par is "flying" the HP flag in storage and the firm wants to make the most of this growth before another vendor jumps in with a better mid-range product.
Elsewhere in the channel, HP storage doesn't have quite the same rep. In the enterprise arena it rebadges the HDS Virtual Storage Platform systems as HP XP.
According to Gartner Q2 data for Blighty's disk array storage arena, HP shipped $33.6m worth of gear versus $31.2m a year ago. It was the fifth highest selling vendor behind HDS, Fujitsu, EMC and Dell.
On the global stage, HP was behind four bigger hitters in the external controller-based disk storage arena in Q2: EMC hogs a third of the market in value, while NetApp, IBM and HDS account for roughly another third, Gartner figures show.
HP has market share of 8.5 per cent after revenues declined five per cent to $467m.
HDS had three UK regional sales directors: Venables ran the acquisition (new business development) team, Jonathan Naik heads the SI unit and Sue Presto the existing house accounts.
Neill Burton, UK and Ireland veep for HDS, told us senior director Lynn Collier will assume Venables' responsibilities until a successor is in place.
Updated
HP corporate has been in touch with a statement from Andy Isherwood, MD and senior veep, HP Enterprise Group UK & Ireland, which we've included in full for your amusement perusal.
"We are very excited about Nick Venables joining HP as storage director for UK&I starting in December. HP has a huge opportunity in storage and our partner community is at the centre of our growth strategy.
"Warren Duke ran the storage business for four years and is a highly valued member of the team. He will be joining the indirect sales leadership team helping to strengthen relationships with some of our key partners," Isherwood stated.
"These moves underline our continued commitment to storage and the channel." ®
Sponsored: Minds Mastering Machines - Call for papers now open