Who will recover your data if disaster strikes?
Expect the unexpected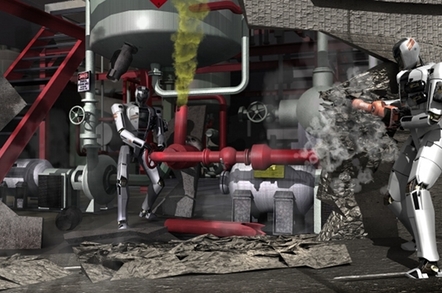 Who here has a disaster recovery plan? OK, that's most of you. How many of you have a disaster recovery plan that isn't "panic"? That's a more reasonable number.
How many of you have disaster recovery plans that you have actually tested? Excellent! This is encouraging.
Now how many of you could implement the full plan before the downtime affected the business? Oh.
No competition
Few stories in IT are quite so appalling as those told by people who work in the backup industry. Sometimes, even the business models can be enough to rattle the nerves.
Take KineticD. It makes backup software. It does not make fancy software that can back up anything on the planet or have a feature list as long as your arm.
It does not target the large enterprise like nearly every other backup company. It writes a simple but remarkably effective backup application for small businesses.
In an industry bursting with competition, KineticD's main selling points are ease of use and the fact that it is a Canadian cloud backup company with a Canadian data centre. It would be easy to dismiss it as minor and likely to be annihilated by the overwhelming competition out there, but CEO Jamie Brenzel doesn't see it that way.
"KineticD doesn't compete against other backup vendors. Our competition is nothing at all. We are adopted by businesses that don't have a backup of any kind and we back up more than 60,000 businesses," he says.
KineticD's story is echoed by IoSafe. There are plenty of companies out there that just want storage that will survive anything – even the building burning down around it. That is exactly what IoSafe makes and it does brisk business.
IoSafe representatives are quick to point out that they are firmly in favour of proper backups and disaster recovery plans, but they are perfectly aware that far too many people allow such schemes to lapse in the hope that the RAID will save them from true disaster.
With an IoSafe you are protected against the building burning down. With a backup program like KineticD you have proper versioning so you can cope with hardware failure or accidental deletions.
Either, or preferably both, of these are certainly better than nothing at all, yet neither represents a true disaster recovery plan.
Crash and burn
If the power goes out or the computer dies a retail outfit can get by for a while by writing sales down on paper and re-entering them when everything is back online. Realistically, how many days can that work? Across how many locations?
How long before loss of access to the financials package affects the ability to make payroll happen, pay the taxman his tithe or meet regulatory requirements to produce various statistics?
Do your accountants even know how to do this by hand any more? If so, do you have anywhere near to enough of them to do it?
What about manufacturing? Where do the robots get their instructions? What happens if the computers feeding them go down?
What feeds information into the computers that feed information into the robots? How deep does that rabbit hole go?
It may be perfectly rational to assume that a company located smack in the middle of a craton does not have to plan for an earthquake, but what about some unlucky fellow slamming into the side of a power substation while street racing?
Do your hurricane preparations amount to bucket brigades? Peer 1's did, and that company is one of the more capable hosting providers on the planet.
Businesses are expected to present IT services that are available at all hours, but not everyone is held to Peer 1's standards. It is likely that a business would be expected to continue operations in a car-versus-substation event, but many businesses would be given a pass in a Hurricane Sandy situation.
Sponsored: Minds Mastering Machines - Call for papers now open