Apple, for one, welcomes its ROBOT factory OVERLORDS
Fruity firm to replace grumpy workers with $10bn machines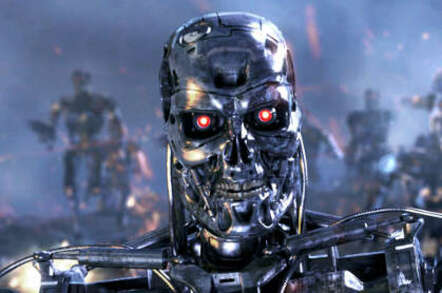 Apple is planning to splurge a whopping $10bn on robots and other flash manufacturing tech to beef up its production process.
The fruity firm is hoping to get one over Samsung by investing in an automated production line. Yet the South Korean firm has reportedly set aside $22bn this year to invest into capital infrastructure, making it the only firm to outspend Cupertino.
An unnamed source told Bloomberg Apple is planning to buy lasers and milling machines to craft aluminium Macbook frames as well as a special gizmo for polishing up the iPhone 5C's garish plastic casing.
Apple is interested in striking exclusive deals with machine manufacturers in a bid to stop competitors getting their hands on the same gear.
It has already hired robotics experts and is looking to hire engineers with expertise in operating top-end manufacturing machinery.
The jobs listings show Apple is also looking for an expert in "restricted substances and green chemistry", which isn't as dodgy as it sounds.
Cormac Eubanks, product development director at the industrial design firm Frog Design, told Bloomberg that Apple has a different way of manufacturing products.
"Most companies will hire a design firm to create a rendering of a product, throw it over the wall to China and then it's the Chinese engineers who do the detailed engineering work," he said. "What Apple does is hard and it takes a lot of time and money."
The news wire's source also discussed some of Apple's bespoke machines, such as a machine for testing if the gyroscope in an iPhone is working properly. A machine didn't exist to do this, so Apple designed one with a granite base and several cubes which spin around quickly. Every iPhone that comes off the Chinese production lines is put into the contraption as part of Cupertino's rigorous quality control checks. ®
Sponsored: Minds Mastering Machines - Call for papers now open