LG's G2: The phondleslab that wants you to TOUCH ITS BEHIND
The Android handset you'll want to see the back of?
Like the clappers
Thanks to its Qualcomm APQ8064T Snapdragon 600 chipset, which combines a quad-core 2.26GHz Krait 400 chip with 2GB of RAM and an Adreno 330 graphics wrangler, the G2 goes like the proverbial off a shovel.
The average AnTuTu benchmark score of 33,600 was near enough identical to that generated by the Samsung Galaxy Note 3, which may well have been cheating. Of course those are the same innards you'll find the rather cheaper Nexus 5. Caveat emptor.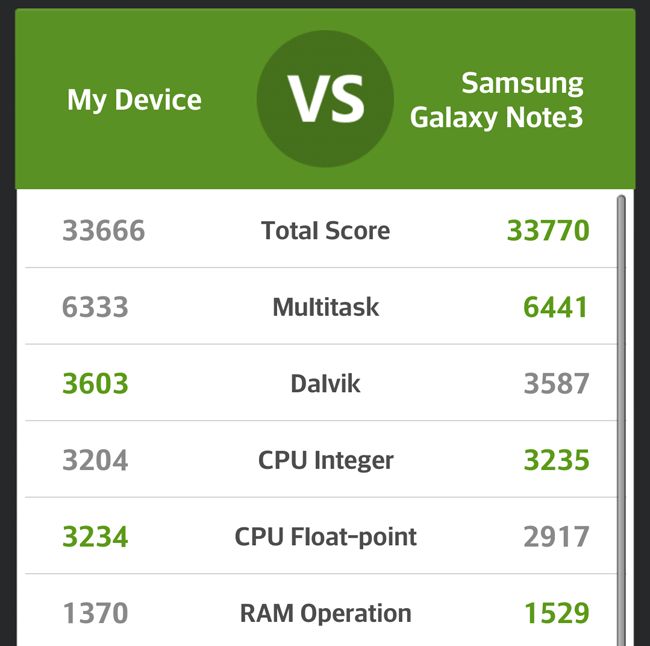 AnTuTu scores: the G2 vs the Samsung Note 3
Despite the fire-breathing performance, the G2 never ran hot and the chunky battery always proved good for at least a day-and-a-half of hard use. Looping a 1080p MP4 video file drained the battery in just over 13 hours, which is impressive.
The G2 runs Android 4.2.2 which is now two steps removed from absolute modernity. Like Samsung, LG has been hard at work tinkering with Android to add its own special features, but unlike Sammy's TouchWiz, LG's Optimus launcher comes across as much less of a witches' brew. In my opinion there's much less sacrifice of Android's innate elegance and familiarity in the name of boasting as long a list of features as possible.
For instance, the eye-sensing features are restricted to core functions: pausing video when you look away and overriding the sleep time-out if you are still looking at the screen. That's all the "smart view" I want on my handset, thank you very much.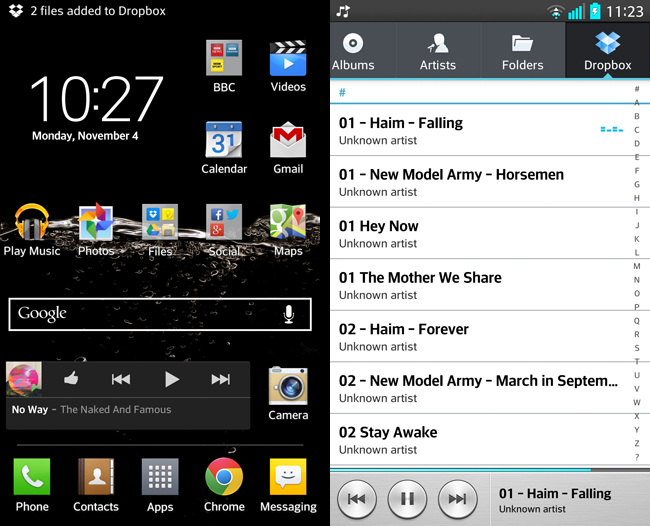 LG's Optimus UI launcher (left) isn't at all bad, but while the music player (right) talks to Dropbox, it doesn't read metadata
There's also something called Slide Aside which lets you make a three-fingered swipe between running apps though this really just replicates the stock Recent Apps function.
QuickMemo on the other hand, is of more use. It's a simple-as-pie facility to take a screen grab and then doodle on it or jot down a quick memo.
There is also a selection of small apps, called QSlide apps, that can run in windows and six different layouts for the capacitive buttons below the screen, two of which include a fourth button to launch either QuickMemo or the QSlide apps. All of these features have uses but more importantly they are easy to get to grips with, easy to launch or equally easy to completely ignore.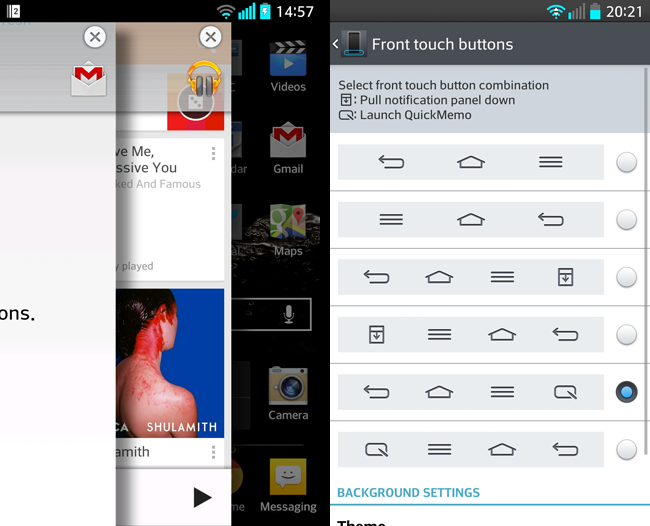 The Slide Aside feature (left) lets you flip between screens, and the G2 also lets you pick main button options (right)
The Optimus UI also looks a lot more like stock Android which works in its favour. By trying less hard than Samsung to make its launcher not look like Google's basic creation, LG has come up with something altogether more usable and less confusing.
A final Optimus feature that deserves a mention in dispatches is tap-to-wake – or KnockOn, as LG rather strangely calls it. As the name sort of suggests, a quick double-tap on the screen of a sleeping G2 brings it to life while the reverse sends it back to sleep. You need to tap on an empty bit of screen to send it to sleep but a tap on the status bar will do the job if the screen if jammed full of apps and widgets or you have an app running full screen. It's a peripheral feature but one I found myself using more and more often.
Sponsored: Minds Mastering Machines - Call for papers now open