Don't count out Overland Storage: Borged mixed tape biz = PROFIT at last
Tandberg slurp beings combined tape revs to just 22%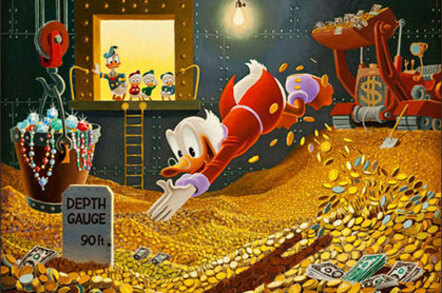 Analysis We expected declining revenues and another loss and Overland didn't disappoint. First fiscal 2014 quarter revenues of $10.6m were down 9 per cent on the annual compare and 12 per cent compared to the previous quarter. On the other hand, its new acquisition means it pulls a lot of resources out of the tape biz and into the more profitable parts of the storage world.
As for those Q1 results, there was a loss of $4.6m which was better than last year's $7.2m loss, and the previous quarter's $8.8m. But there are reasons to be cheerful. By taking over Tandberg Data Overland will be able to cut its operating expenses and expand its markets and so, perish the thought, actually make a profit.
Overland's boss, CEO and president Eric Kelly, said: "We are excited about our agreement to acquire Tandberg Data, which would create a company which had approximately $110m in annual revenue in our last fiscal year and would provide substantial resources and cost synergies, enabling us to compete more effectively in the marketplace and move toward a clearer path to profitability following integration of the two companies."
Did the earnings call add any more to this?
Yes. Kelly talked of now having 16,000 channel partners worldwide, a world-class and lower-cost manufacturing facility in China, and geographic expansion in Europe, Asia and the Middle East. He also said: "We will have a comprehensive product line ranging from our high-availability SnapScale clustered NAS, SnapServer DX NAS and Virtual Tape Library to Tandberg's RDX disk-based solutions through our combination of both tape automation product lines."
Cutting tape
In the combined company tape automation will be "only representing 22 per cent of the total revenue." Just as well as CFO Kurt Kalbfleisch described pretty dire results in that area: "Tape revenue in the first quarter of fiscal 2014 decreased 30 per cent worldwide, approximately $1.2 million, compared to the immediately preceding quarter and was down 27 per cent or approximately $1m compared to the first quarter of fiscal 2013. This was primarily related to the decrease in sales of our add-on tape drive."
Kelly added that the acquisition will enable "the acceleration of our strategy of becoming a global leader in data management and data protection marketplace." Well, yes, it's good to have a target.
There is a lot of excitement about the Sphere 3D technology which is claimed to give BYOD and smart mobile device owners full access to enterprise apps. The Tandberg deal will help there too, Kelly saying: "We plan to roll out these products over the next 12 months, and we're on track to begin the rollout in the first calendar quarter of next year through a substantially expanded channel network from our combination with Tandberg."
In detail: "We will offer two different delivery models, an appliance gateway to be installed on premise and a subscription model … providing access to applications via the cloud. We plan to begin a phased rollout of [the] appliance product first, which would include three tiers: an enterprise model, a small and medium enterprise model and an SMB model."
It looks as if, cross your fingers, pray for a fair wind and no technology hiccups, Overland Storage with Tandberg could become a viable company on its own and, with the Sphere 3D rabbit pulled out of the hat, could become a growth company.
Wow. That will be a problem. Everyone on the industry has gotten used to pissing on Overland and we won't be able to do it any more if Eric Kelly and his Overland folks come up smelling of roses.
What can we say? Go for it Overland and piss on everyone else for a change. We have our umbrella ready and waiting. ®
Sponsored: Minds Mastering Machines - Call for papers now open