Profits ONTAP? Not exactly, but storage giant NetApp can exhale now
Turns to storage software, cloud in a tough market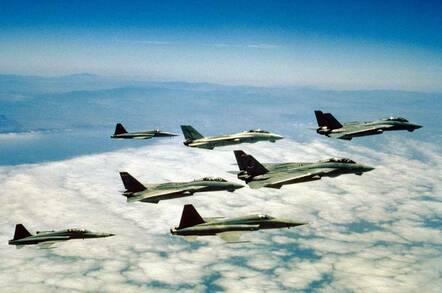 Whew, that was close: NetApp grew its second quarter revenues by a whisker but bumped up profits nicely as customers continued to buy its gear.
Revenues for the second fiscal 2014 quarter, ended 25 October, grew just 1 per cent over the year to $1.55bn. That was a small increase from the first quarter total of $1.52bn, 2.2 per cent more. Wall Street analysts were expecting/hoping a little more but growth is growth.
Profits were $167m, up from the year-ago quarter's $110m, 52 per cent higher in fact, and 104 per cent higher than the prior quarter's $82m.
Cue relieved faces all round; the Sunnyvale ship has done well in a tough market. President and CEO Tom Georgens' canned quote puffed: "NetApp is at the forefront of a changing IT landscape, creating opportunity from perceived threats."
CFO Nick Noviello was more realistic in the earnings call, saying: "We are disappointed with our overall Q2 revenue performance. The continued, uncertain macroeconomic backdrop, combined with the US federal government shutdown and larger-than-expected decline in our OEM business, impacted our top line revenue growth. As a result, total revenue came in $10m below our previous guidance range."
It was a combination of the Feds and poor OEM sales that did for revenue hopes. In fact: "OEM revenue continued to decline in Q2 and was down 28 per cent from Q2 last year and 9 per cent from last quarter." IBM and Teradata were mentioned as OEM customers whose numbers contributed to the decline.
In broad product terms, "unit shipments of branded E-series more than doubled year-over-year. Compared to Q2 a year ago, the FAS2000S and 6000s were down slightly and the FAS3000 units grew 15 per cent."
Georgens added that at least NetApp was doing better than its competitors: "We remain confident in our competitive position as we produced very strong gross margins and continued to gain share with branded revenue growth of 5 per cent year-over-year, well ahead of any of our major competitors."
Friends and foes
Broadly speaking, NetApp sees two big threats/opportunities: flash and the cloud. It is riding the storage array/server flash wave hard and strong with multiple flash tech inserts in its array slots and controllers and has a coming new all-flash array, FlashRay, to run alongside its all-flash Engenio EF540 system. The latter is not a ground-up redesign but a flash insert, so to speak, inside what's basically a disk drive array.
However, NetApp is doing well with the EF540. Georgens said: "NetApp, from effectively a standing start in February, [has] shipped almost 550 systems. And that has got to put us in the top 2 or 3 position overall in the all-flash market. If we stay on this trajectory, obviously, we can go up from there."
He mentioned an EF540 upgrade to an EF550 system was coming.
For the cloud, NetApp aims to make its clustered DataONTAP operating system manage both on-premise (private) clouds and public clouds, with Georgens saying ONTAP will "integrate data management across hybrid on- and off-premise environments by providing data management and a common storage fabric. Clouds using ONTAP can efficiently connect with on-premise and other ONTAP-based clouds to move data and workloads easily, utilising NetApp's data movement and portability technologies."
NetApp sees customer IT directors changing from builders and operators of IT services to "brokers of services across multiple cloud providers." The threat to avoid is ONTAP becoming a one-way onramp to the cloud with NetApp-stored data becoming non-NetApp-stored data – leaving Sunnyvale's software with nothing to do. Somehow ONTAP has to become an enduring cloud storage wrapper, and on-premise ONTAP storage will be a key part of that.
He said: "What customers really want is a seamless data management interface between on-prem and off-prem that actually might generate demand in on-premise computing in the traditional market."
Georgens elaborated on NetApp becoming more of a storage software company: "The proliferation of our software is really the way NetApp is going to continue to do data management in the future and the way we're going to continue to distribute our value. … I think opportunities to go to Verizon with an alternative model that's software-only, that creates a very, very large pool of ONTAP-written data, I think actually expands our opportunity over time. … We're not a storage systems company per se. We're a data management company, and therefore, it's about software's ubiquity."
Analyst Jason Ader from William Blair is tempered on NetApp: "We remain cautious on NetApp's mid- to long-term prospects as competition in the midrange storage market has been heating up and overall demand for traditional SAN/NAS disk-based systems is being disrupted by emerging trends such as the cloud, flash, and converged systems.
"Near-term competitive headwinds that could affect NetApp's growth are EMC's recent introduction of the VNX2 platform, and significant traction being gained by emerging players in the market with more modern architectures that often target NetApp deployments (ONTAP is more than 15 years old)."
The market is tough, with NetApp's outlook for the next, third quarter being revenues of $1.575bn to $1.675bn. At the mid-point that would be a decline from fiscal 2013's third quarter revenues of $1.63bn. We'll all be on tenterhooks waiting to see what the actual number will be. ®
Sponsored: Minds Mastering Machines - Call for papers now open