Bay pride: WD slips out FOUR-DRIVE network FILE STASH
Torrent your heart out with WD's single-core, quad-bay Nas box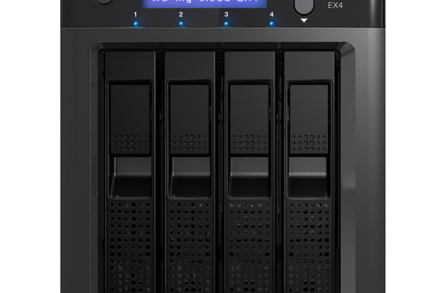 WD has fixed the limited space and lack of RAID on its 1-bay My Cloud box by introducing a 4-bay one, the EX4.
The first My Cloud box, providing data access to all your home/small biz network, was powered by a dual-core ARMv7 processor running Debian Linux. The single-core, 2GHz Marvell 88F6282 processor inside this new 4-bay NAS box runs alongside 512MB of RAM and 256MB of flash memory.
It uses WD Red drives and you can buy the box unpopulated or with two, three or four 4TB drives, taking max capacity to 16TB. The drives slide in and out in seconds - they're also hot-swappable - with no screwdrivers required. The Linux OS sits on the flash memory.
You can set the thing up as a JBOD or configure RAID 0, 1, 5 or 10. As before, there is a facility to add external USB 3.0-connected external drives to push capacity higher. The box itself connects to a router via gigabit Ethernet.
It's a desktop form-factor, weighting 7.2 pounds in an unpopulated state and measuring 8.21in high x 8.67in deep and 6.3in wide. There is a small monochrome LCD screen on top of the front face of the unit; nothing fancy here, but you manage it from a host computer via a browser.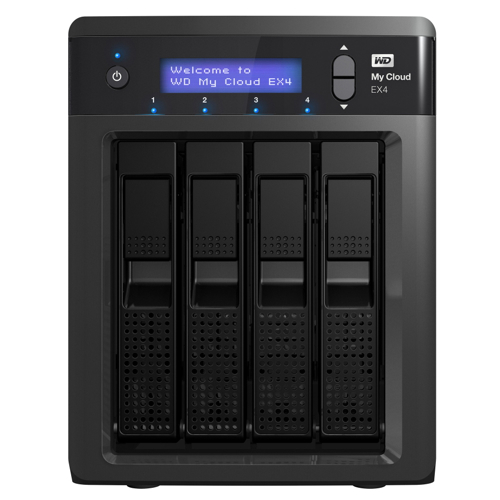 The 4-bay WD My Cloud EX4
As well as a NAS box it functions as a media hub. WD tells us the EX4 can stream digital media "to any DLNA®/UPnP® certified multimedia device such as gaming consoles, smart TVs and WD TV® Live™ media players. The Twonky 7.2, DLNA-certified 1.5 media server and iTunes® server make for simple streaming of large movie and music libraries."
There's integrated backup software for Windows hosts and it supports Apple's Time Machine. IOS and Android mobile device users can access the EX4 via downloadable apps. The "EX4 can also back up itself, either to another My Cloud EX4 in a different location, or to cloud services such as Amazon S3 and ElephantDrive."
Get an EX4 product overview here (2-page PDF) and a User Manual here (170-page PDF.) The system is available now from retailers and WD's online store and the MSRPs are £319 for the empty EX4, rising to £679 for the 8TB version, £799 if you want 12TB of bundled storage, and £999 for the maxed out 16TB model.
It isn't cheap and it doesn't have Drobo or Transporter-style features, but it no doubt does the job WD designed it for. It'd be quite nice to stick 6TB helium-filled drives in it at some stage and get 24TB capacity. ®
Sponsored: Minds Mastering Machines - Call for papers now open