Nookie becomes, um, a virtual reality for Oculus Rift gadget gamers
What a load of old toss...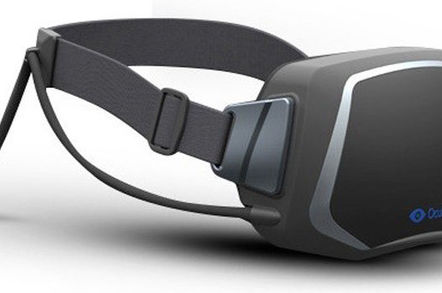 NSFW-ish The fate of human civilisation could now hang in the balance after some filthy-minded gaming enthusiasts in Tokyo showed off a rather ingenious device which allows the male users to have virtual sex.
Virtual reality fans flocked to the Oculus Game Jam in Shibuya over the weekend to try out some of the latest gaming inventions built around the Oculus Rift VR headset.
Well, they got a little more than they bargained for when four-person team "ressentiment" demoed an innovative new gadget combining the Oculus with the Novint Falcon haptic control device and a Tenga onanism aid.
When hooked up together, the male simply places his member in the Tenga, which is attached to the vibrating Novint Falcon, and starts up the specially designed Oculus Rift "game", presumably featuring some fantastical female anime character with huge, er, eyes.
The video below (via Buzzfeed) shows how the Heath Robinson-ish gadget works, although not literally. A second video has been tantalisingly removed from YouTube for violating its Terms of Service.
Japan was a fitting location for the device, given the country's reputation for developing futuristic technologies and an otaku sub-culture that has a disturbing fascination with sexy anime cartoons.
It could also be a dangerous invention, however, given Japan's youngsters are already growing weary of copulating, according to a much-criticised Guardian report as well as a recent Vice video feature. ®
Sponsored: Minds Mastering Machines - Call for papers now open