Japanese anti-nuke groups DoS-bombed by mystery attackers
Local cops have no leads - blame Tor again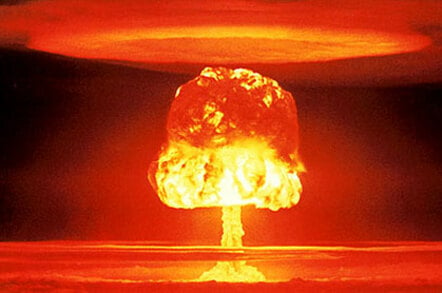 Over 30 anti-nuclear grass roots groups in Japan have been deluged with millions of spam emails over the past two months in what appears to be a co-ordinated campaign to disrupt and obstruct them.
More than 2.53 million emails were sent to at least 33 activist groups since mid-September, with 430,000 sent to just two groups between October 24 and November 4, according to The Asahi Shimbun.
The groups include Women's Active Museum on War and Peace, the Metropolitan Coalition Against Nukes and Fukushima Genpatsu Kokusodan – a body dedicated to filing complaints about the stricken Fukushima plant.
One email apparently read: "Unless we kill all of the anti-nuclear believers, world peace will be never achieved."
However, the main purpose of the attack appears to have been denial of service.
Using Tor to hide their IP address, the attackers apparently obtain the contact email addresses of the groups and then register them with other like-minded groups – using a special program to register up to hundreds of times per minute.
The responses from said sites then deluge the groups' inboxes in a classic DoS style.
There's talk that the attackers may be trying to create discord between the groups, but at the moment there are apparently no leads.
Japanese police don't have a great track record when it comes to solving computer crime.
The National Police Agency (NPA) famously lost face at the start of the year after arresting four innocent suspects whose PCs had been taken over and used to post threatening messages on the net – even extracting false confessions from some of them.
The innocents were only let go after the Tor-using "Demon Killer" continued the posts while they were in custody.
The NPA has since proposed what amounts to a ban on the Tor anonymiser network in the country. ®
Sponsored: Minds Mastering Machines - Call for papers now open