'Daddy, can I use the BLACK iPAD?': Life with the Surface Pro 2
Really nice indeed, but will people ever care?
Build a business case: developing custom apps
Lost in the flow
After much poking and sliding, I find yet another export option. But it's not on the left-hand-side of the screen as in Office, because that menu doesn't exist. That space has been given over to a tree-like list of your notes, called Quick Notes. Instead, I happened to press my fingertip on the document's name and a completely new menu pops up from the bottom of the screen. Who knew?
This menu comes with options including delete, copy link to page and pin to start. As an experiment, I paste the link into Gmail, but when I email it to myself I can only open the document in SkyDrive. Still now download option.
Even Google Drive lets you out of the Chocolate Factory occasionally by allowing you to download a document as a PDF.
I find this difference confusing and annoying. It's forcing me to think about which application I'm using before I can do simple commands. I'm also beginning to suspect by not giving me a simple download option the whole Surface-Windows-8.1-setup is designed to benefit Microsoft rather than me.
This is a problem when you consider the Office and OneNote pack is supposed to be the last word in productivity software for Surface.
I'm not the only one feeling the pinch.
Daniel's dad, Shaz, has been poking at Surface, too. He's another target customer for Microsoft on tablets: he's self-employed running his own business - a dental practice. He likes the endless horizontal scrolling of Metro – he reckons you can get more apps in and he says he likes Windows 8 overall. But he's stopped in his tracks by the scrolling on IE, which – as we all know it is not horizontal like on Metro but is up and down. "You want to keep flipping one way and then you have to change to another way," he says.
How is Surface Pro stacking up? This tablet is sharp and solid. Typing and screen resolution are both delicious. Stand-by time excellent. I like the snap of the keyboard and stylus into the magnetised ports, which have a heck of a grip.
Software is different: subtly different menus between productivity apps combined with hidden menus. Integration between Microsoft apps and services (like Word and Hotmail or Word and Outlook) is snappy. All I want is Microsoft, but not allowing me to easily download a non-Microsoft client is naughty.
Yes, some of this is just a matter of setup and acclimatisation. But it doesn't take much to alienate the undecided potential new user and lock-in thing is a constant. Microsoft is making the hurdle that little bit higher for itself.
Let's talk Internet Explorer, Microsoft's other big app outside the productivity and different to what you're familiar with on the PC. Browsing was simple: tap the IE icon on Metro's Start page and you're in. Swipe up, from the bottom of the screen, and you get the URL bar and icons of open web pages. This is how the browser in BlackBerry's PlayBook worked.
But there were crashes - we lost the Wi-Fi on trying to resume from suspend mode. The error-message window was very informative and traced the problem when it came to the Wi-Fi, but getting cut off from the internet shouldn't have crashed the app.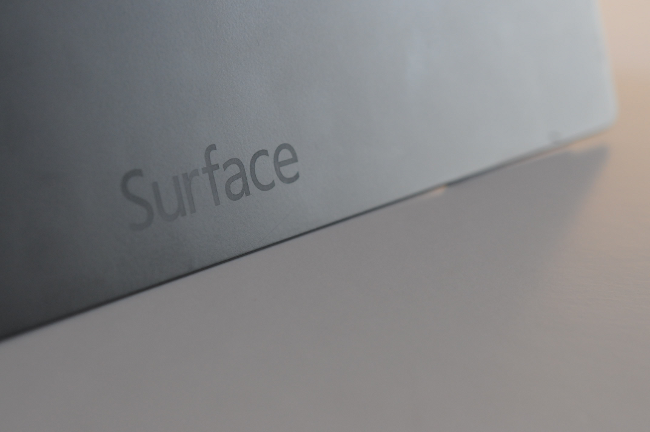 Back to Surface: will a kick-stand make the difference?
There is one more reviewer, somebody who's pretty much Microsoft's ideal Surface Pro customer: a power user, a white-collar professional called Alex and working in The City brokering technology investments and M&A.
Alex is man of spreadsheets, Word documents and presentations and Skype calls – handy given Surface Pro comes with a year's worth of unlimited Skype calls to landlines. Alex is a multi-tasker who lives in tabs. If Surface Pro 2 is for the MacBook Pro user, then Surface Pro 2 is for Alex.
Alex takes a break from cooking lunch. He pokes and swipes at the Surface Pro 2, getting to grips quickly with Windows 8.1. Then he hands machine back to me. He used the weather app. The weather app? Is that it?
"I wouldn't use it for business," he concludes. Why not, I ask? "The screen is too small and I like a full-size keyboard."
Surface Pro 2 is too tablet-like for this power user. "I don't need another device," he concludes before tossing the Surface back in my direction and returning to the kitchen.
So much for PC in the form factor of a tablet. Never mind being the most productive tablet ever and all that work on hardware and on software integration. Microsoft has got a PC that's too small to be a PC and a tablet that is, well, just another tablet. Surface Pro 2 can't even get a foot in the door for Alex.
That is what lost mindshare looks like. ®