'Daddy, can I use the BLACK iPAD?': Life with the Surface Pro 2
Really nice indeed, but will people ever care?
3 Big data security analytics techniques
Touch me, touch my cover
The Touch Cover has the sensation of thick card with the texture of felt. If you're used to keyboards it's an adjustment, like running on dirt in bare feet as there's nothing to cushion your joints - but this time it works on your fingers.
The typing on screen is fluid: characters seem to scroll onto the page as you hit the keyboard, laid out smoothly like an unfurling roll of carpet, not punched onto the screen like a typewriter. It feels silky. Graphics are sharp and colours rich thanks to the ClearType full HD display.
My first reviewer is a 10-year-old boy and Man City fan called Daniel who has just done his 11 Plus. He straddles the worlds of old and new computing input paradigms, because his family has an iPad and a Windows 7 desktop. Daniel gets down to some obligatory streaming video and games play before I steer him towards typing in Word 2013. Interestingly, Daniel eschews the touch-screen keys despite my prompting, and sticks to the Touch Cover.
Verdict?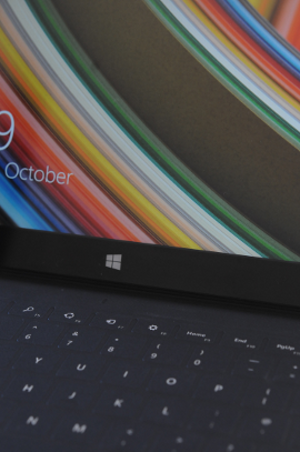 Rich colours and a sharp definition on the Surface Pro 2 screen
"It felt nicer than a using a keyboard with keys that had to be pressed," Daniel tells me, of the keyboard. He also liked the fact the keys light up in low light. "Cool," he says. Any other pluses? Not really. Just the keyboard.
So much for hardware. Let's talk software.
Surface Pro 2 is loaded with Windows 8.1, so the Metro Start screen is your home page. All apps are marshalled here with icons as different sized boxes and rectangles. Tap an icon and it flips 'round to open the app. Scroll down below the bottom of the screen and there's a full list of all apps by name. This is Windows 8.1 so you get the Classic desktop. An icon on the Metro Start screen takes you to a desktop with the familiar windows of folders.
First lesson of Surface Pro 2 is how to touch. You swipe up or in, depending on the function, starting from the black border around the screen. This is what BlackBerry did with its forgotten PlayBook.
The first hurdle is getting started and I need a Microsoft account before I can even use this machine. Each time it shuts down or suspends, I must enter a password to use it, and that password links back to the Microsoft account online. I need also accounts to use the really useful Microsoft icons on the Start screen - Skydrive and OneNote. Also, I need to subscribe to Office 365 to use the web versions of Office productivity apps even though the tablet comes with Word, Excel, PowerPoint and OneNote 2013.
I'm stuck in an exercise in backwards and forwards, of setting up accounts, of converting my Hotmail account, getting bounced between sign up and log in windows, of being told I don't have the correct permissions to use Office 365 despite having just entered my credit card details.
Still, I'm in now.
Word, Excel, PowerPoint and One Note 2013 on Surface Pro 2 look as you know them on the PC, with the ribbon interface. But we do discover some concessions to touch on the tablet, and it's here things start getting tricky as the old and new worlds of desktop and tablet/internet meet.
The Office apps give you menu on the left-hand-side menu with a subset of options that include new, open, save, share and export. But what's this: swipe the right-hand side of the screen and another menu swings into the screen with another sharing option – to share via email or OneNote.
Strangely, this option is grouped with a bunch of non-specific Office commands including Bing search and manage devices and PC settings.
The integration with other Microsoft apps is smooth: click the email share option from the right-hand menu and a window swings open taking up half the screen with a pre-composed email in your Hotmail account ready to go. Share from the right-hand menu, and I'm sharing using Outlook 2013.
I'm absorbing this, although not sure why I've got so many pre-programmed sharing options.
OneNote the web app is different again - actually better than the desktop app, OneNote 2013. But there is more confusion. No ribbon interface on the web app, unlike the Office family, rather the paradigm is pure touch. Tapping your finger on the screen gives you a wheel with icons for pens, paintbrushes, erasers and so on. Tap any of these again you get colours and different thickness. Then you draw with your fingertip or the stylus.
My daughter draws a self-portrait. Now, how to export it?
As in the Office 2013 apps, swipe on the right-hand side of the screen and I get the share option via Hotmail but I don't want that – I want to download a version, to save and print, only there's no download option.