Turnbull touts construction resumption in YouTube vid
'No halt in construction' says Mal the Builder, but network will go low-fibre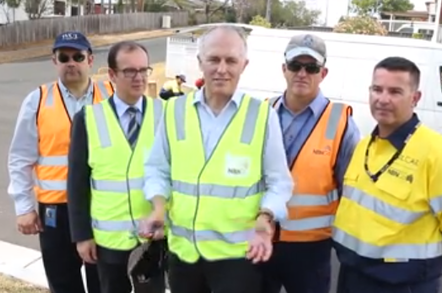 The ongoing game of trying to divine Malcolm Turnbull's intentions for Australia's National Broadband Network (NBN) by noting the differing language he uses on the few occasions he discusses the project continues, after Australia's minister posted a YouTube video in which he denies suggestions he's been trying to kill construction.
Since shortly before Australia's federal election, the rollout appeared to have slowed down considerably. NBN Co had stated that this was primarily due to problems with its contractors, along with Telstra's ongoing pit remediation to remove asbestos.
Turnbull turned up with cameras, contractors, and new NBN Co chairman Ziggy Switkowski in a silent cameo, to tell the world that existing work commencements really, really are continuing. He even said that new work orders have been issued, albeit without stipulating whether the new work is fibre-to-the-premises, fibre-to-the-node, fibre-to-the-cabinet, or RFC 2549.
Stating flatly that the NBN is proceeding, Turnbull said that in the week to 8 November, "12,000 premises were passed", and that "we have issued design instructions for … twice as many premises to be passed by June 30 next year as the NBN Co has passed to date."
If any – Vulture South included – had hoped that his earlier statements reflected a softening of Turnbull's attitude towards FTTP, the video press release (albeit with no press present) puts paid to that.
"Much of [the network] will be fibre to the premises," Turnbull says. "More will be fibre to the node or fibre to the cabinet in brownfield locations. What we'll be doing is using the best, fastest, most affordable, and cost effective technologies in the appropriate place, to get the end result of all Australians having access to very fast broadband."
Whether "best" and "most affordable" are entirely compatible, El Reg will happily leave to its readers to debate. ®
Bootnote: There's no truth to the rumour, offered by one wag on Twitter, that Switkowski is using the clip to audition for the next Thunderbirds movie, merely because of his uncomfortable body language in the last six seconds of the video. Judge for yourself in the vid, visible below.
Sponsored: Minds Mastering Machines - Call for papers now open