UK.gov IT supplier catalogue G-Cloud 4 goes titsup
Maintenance work needed to sort out crash... following maintenance work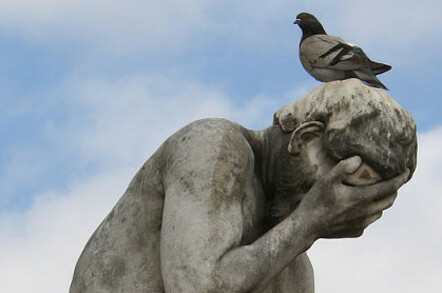 Gremlins in the system have caused approved government supplier catalogue CloudStore to crash this morning - not that any tech buyers in public sector would have been crying into their cornflakes.
A Cabinet Office spokesman confirmed work took place over the weekend in preparation for today's relaunch of the G-Cloud 4 framework, which includes the latest iteration of the web-based services directory.
He confirmed the webshop had been down all morning: "It wasn't planned, there's been some teething troubles connected with the launch of the G-Cloud 4 framework," he told El Chan.
The exact nature of those glitches is unknown, and the Cabinet Office said it will update us when it can shed some light on the reasons for the downtime.
Some 999 suppliers have joined under G-Cloud 4, taking the total number of suppliers on CloudStore to 1,186 firms offering some 13,000 services.
The CloudStore was first launched in February last year, and as of the end of last month some £53.5m had been spent by public sector buyers on cloudy wares, with 58 per cent splashed via SME suppliers.
The goal is to funnel 25 per cent of government spending via the small business community by 2015, which considering the tens of billions spent on tech annually mean there is some way to go.
G-Cloud has moved under the control of Government Digital Services, as we predicted months ago, which gives it a permanent budget and a louder voice to spread the word on cloud services across the community.
Outages like the one this morning will likely make no dent on CloudStore sales, which is perhaps symptomatic of the problems facing G-Cloud - not many people seem to care outside of the framework architects. ®
Sponsored: Minds Mastering Machines - Call for papers now open