'Burning platform' Elop: I'd SLASH and BURN stuff at Microsoft, TOO
Office for EVERYTHING - that's the answer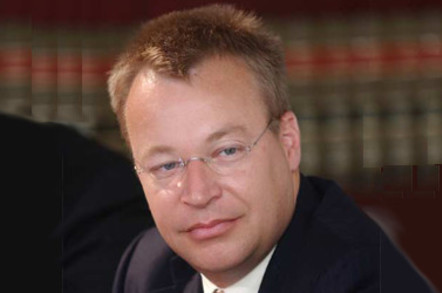 What kind of company would Microsoft be under Stephen Elop, we asked. We have an answer... of sorts.
Elop would kill Bing and Xbox as a Microsoft chief executive and go "all business" by developing Office for as many non-Windows devices as possible.
Nokia's CEO is reported by Bloomberg be considering the strategy should he succeed Steve Ballmer as Microsoft's chief.
Elop's strategy puts the popular Office suite front and centre, making them available to an array of tablets running Google's Android and Apple's iOS.
Office is one of Microsoft's best-selling pieces of software and main revenue-spinners.
Elop, of course, is the ex-Microsoft executive who ran the Office business as president of the former Microsoft Business division before he left to become Nokia CEO in 2010.
Of course, since this summer's Ballmer re-org, the software suite now falls under Microsoft Applications and Services Group. But during the last fiscal year Office minted $20bn – the most of all products in Microsoft's Business unit.
Elop is reported to be willing to consider ending the war against Google by ending work on Bing, the search engine that has cost Microsoft billions of dollars in R&D.
After nearly a decade developing and selling Bing, and despite some wobbling around the edges on market share, Google retains a commanding lead on internet search.
Google has 66 per cent of US search traffic with Bing second on 17 per cent. Yahoo!, which is also Bing, adds another 11.4 per cent according to comScore.
During its last quarter, Google hit reported a net income of $2.97bn, far above the $2.18bn it reported in Q3 2012.
Bing, meanwhile, drains Microsoft's coffers. For Microsoft's entire fiscal year, the online services unit that houses Bing reported $3bn revenue, up from $2.8bn a year back. It also lost a whopping $1.2bn (better than 2012's $8.1bn loss, although to be fair, that included a one-time goodwill impairment charge of $6.2bn).
On Xbox, Elop is reported to be willing to sell the gaming console.
Xbox is the number-one selling games console in the US, with Sony's PlayStation in second place.
Microsoft's new strategy is to turn Xbox into a home-entertainment hub for gaming and downloading and viewing films, TV and entertainment.
According to Bloomberg, Elop would consider selling healthy businesses such as Xbox "if he determined they weren't critical to the company's strategy".
One Wall St analyst this week reckoned sale of Bing and Xbox could improve Microsoft's earnings by up to 40 per cent during its current fiscal year.
Does Elop have the chops to make the chops? He took the decision at Nokia to dump Symbian and commit exclusively to Windows Phone when he became CEO.
He has also laid off thousands of workers.
Whether his brand of medicine would be welcomed by the Microsoft board is uncertain: from the start at Microsoft, Office has been used to get leverage for sales of Windows and vice versa.
Microsoft has made web versions of Word, Excel and PowerPoint available to other devices via the browser as Office Web Apps, but not client-side code.
Office apps for iOS and Android phones were released earlier this year, but you must jump through the hoop of taking out an Office 365 subscription.
Steve Ballmer told the Gartner symposium in October a version of Office for iPads would arrive once "we do what I would call not just a touch-enabled but a touch-first user interface for Word, Excel and PowerPoint".
A Metro-iSed version of Office is planned for Office under a wave of updates codenamed Gemini.
On Bing, the question is whether Microsoft would be willing to effectively write off the billions it has already poured into the search engine and whether it is believed it can grow - eventually.
For Xbox, the matter is whether the games console can match Windows, Office or Server & Tools to become a fourth earnings pillar for the future.
The biggest dilemma, however, will be: what company does the Microsoft leadership want – a highly diversified or one with a narrower focus? ®
Sponsored: Minds Mastering Machines - Call for papers now open