Back to black: Dot Hill climbs out of the dot hole
Posts a profit after making OEM eyes at Teradata, Lenovo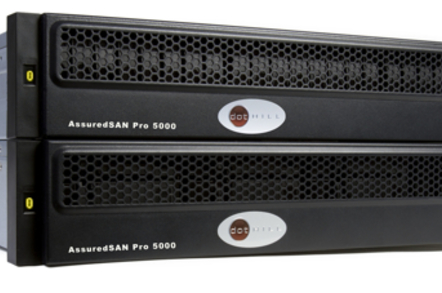 Storage systems maker Dot Hill is making the most of the economic recovery, slipping back into the black after posting seven-figure losses a year ago.
The company announced its Q3 2013 results with a small $1.8m profit for the second quarter in a row. Revenues were $52.6m, compared to $48.2m a year ago and $50.7m in the preceding quarter. Dot Hill made a loss of $3m a year ago and a profit of $2.1m in the previous quarter, after nine consecutive loss-making quarters.
It changed its focus from the major storage OEMs to vertical markets, such as oil and gas, and media and entertainment, and has announced significant additions to its pipeline and new OEM wins.
For example, Dot Hill has won an OEM deal at Teradata. Dana Kammersgard, president and CEO, said during the conference call: "Historically, Teradata has had a sole source relationship with Engenio, both pre- and post-NetApp acquisition … [Teradata] announced a new product, the 1700 Extreme Data Appliance at their PARTNERS Conference three weeks ago, and that's our entrée into their product line."
Kammersgard also said that Dot Hill beat Engenio to a Lenovo OEM deal.
Another example of the company broadening its scope is CGG, a geoscience company in the oil and gas market. They selected Dot Hill's AssuredSAN 4000 Series midrange product for their subsurface imaging centres. Dot Hill has also seen a bit of a resurgence in its traditional storage array OEM business, with HP using Dot Hill for its MSA 2040, which featured the industry's first 12Gbit/s SAS and 16Gbit/s FC/10Gbit/s iSCSI hybrid interface options in September.
Kammersgard thinks this may have given HP a six-month lead before its competition can bring equivalent products onto the market.
Trying to dig deeper into the Teradata deal, Stifel Nicolaus analyst (and MD) Aaron Rakers asked Kammersgard if there's more coming and received this teasing reply: "Yes, that's an excellent question, and one that I'm not going to answer at this point."
We'll assume that's the hoped-for yes, then.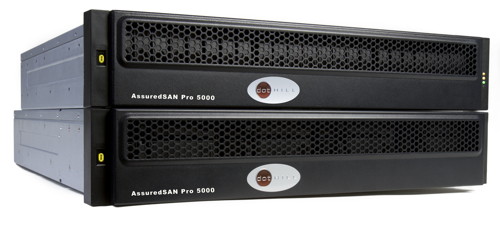 Dot Hill AssuredSAN 5000 with real-time tiering
He did say this: "Our own autonomic real-time 3-stage dynamic tiering capability from solid-state to primary disk to near-line disk and back every 5 seconds is best-of-breed in the industry from our point of view. And that's something that certain of our vertical OEMs have acknowledged and are now considering bringing into their own product lines and into their own portfolios."
There was more: "None of the big guys, whether we're talking about IBM or Dell or EMC or others, have real-time data migration. All of those migrations are launched every day, 24-hour processes, batch processes. New guys that are in the hybrid array space for the most part are doing solid-state pinning - read-pinning or read-caching rather than migration. And then, of course, the pure play solid-state arrays don't do tiering; they don't have to. But they're also very expensive because they're wholly based on solid-state."
So things are looking better at Dot Hill despite tough market conditions, Kammersgard calling it "an overnight success, three years in the making."
NetApp's loss (from its purchase of CEO Tom Georgen's old biz, storage maker Engenio, back in 2011) is Dot Hill's gain. It must be hoping that the positive trends it's seeing will continue so revenues can get back to the $60m+ per quarter levels seen back in 2010. But with profits this time around, and (whisper it quietly) inching up to profits in the eight-figure area would be very nice indeed. ®
Sponsored: Minds Mastering Machines - Call for papers now open