XtremIO dear: Dell brags of being cheapest of the big flash four
Analyst paper on eve of EMC's big flash box launch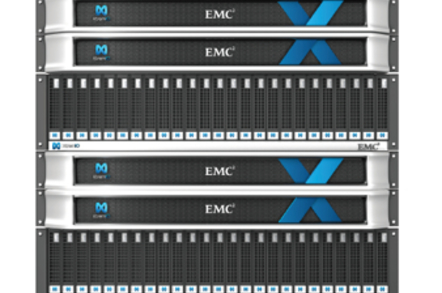 As EMC prepares for its 14 November launch of its all-flash XtremIO box, Dell has put out a analyst paper explaining that on price – which is what counts in the expensive all-flash storage world – it is the bossdog of flash arrays.
Michael Dell's privately owned biz points to an ESG technical lab validation (PDF) that compares the Dell Compellent SC8000 all-flash system, with its tiered SLC and MLC flash, with all-flash arrays from four other major vendors – none of which it mentions by name, of course. Dell comes out on top with a significantly lower cost/GB: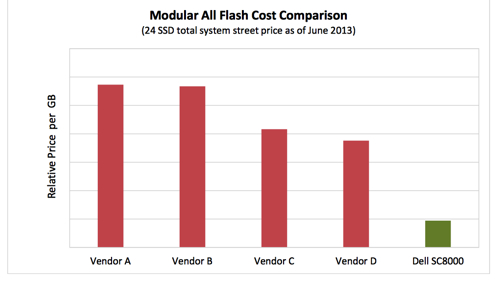 ESG comparison chart for Dell SC8000 cost/GB
ESG's report says: "The street price of the Dell SC8000 with a mix of fast SLC and slower but less expensive 1.6TB MLC SSD is four to six times lower than all-flash solutions from major vendors."
ESG compared the SC8000 with 24 of the "highest capacity SSDs from major storage and systems vendors" and the chart shows four of them. We don't know who the major vendors are but guess the category excludes Nimbus Data, Pure Storage, SolidFire and possibly even Violin Memory. Vendors A, B, C and D could be EMC, HDS, HP and NetApp.
It's premature, of course: we want to see how the SC8000 compares with the XtremIO array.
Dell also points to a Storage Strategies NOW report that "shows storage users are using or expect to use Dell flash technology ahead of all other vendors." Well, terrific. What would the study say once the XtremIO array is generally available? You can buy the study as-is for $5,000 from www.ssg-now.com.
So, okay Dell, you could be a leader now. Here's what it says we should bear in mind about the XtremIO array:
What is the XtremeIO cost per GB?
What is EMC doing to lower the cost of SSD arrays?
Dell's understanding is that XtremIO scalability is limited to four bricks.
How is data balanced as new bricks are added?
Can customers tier flash with traditional HDD, or are they limited to all-flash configurations?
Is remote replication supported within the array or are additional systems such as VPLEX required which have an additional user interface?
Will existing EMC customers leverage existing GUI experience with VNX or VMAX or is this a separate interface?
Pointed questions indeed.
El Reg storage desk thinks we know what EMC is doing to lower the cost/GB of ExtremIO flash: inline deduplication, thin provisioning and space-efficient XDP data protection.
XtremIO scalability is, we understand, eight X-Bricks. Data is written in stripes across all bricks. We don't know if it is rebalanced when a new brick is added, and think it could be unlikely as that would involve a lot of write activity.
Customers cannot tier data from an XtremIO cluster to a back-end trad HDD array or, we understand to front-end server-side flash storage. Both may come
VPLEX (and RecoverPoint) are needed for XtremIO replication. Asynch XtremIO replication is coming
XtremIO has its own user interface.
So there we are. Dell customers, knowing all this, may be less likely to buy XtremIO flash arrays, preferring the SC8000. EMC customers are still, we feel, more likely to buy the XtremIO array than an SC8000. ®
Sponsored: Learn how to transform your data into a strategic asset for your business by using the cloud to accelerate innovation with NetApp