Bloke named 'human' demands 'COPSLIE' licence plate
New Hampshire court mulls 'freedom of speech' case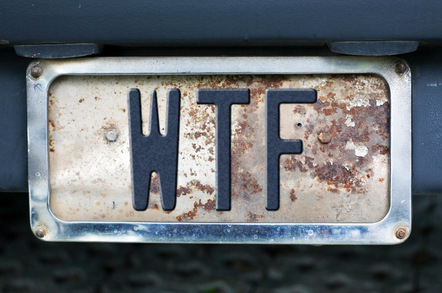 A man named "human" rolled up at New Hampshire Supreme Court last week to argue his right to sport the vanity licence plate "COPSLIE".
The unemployed accountant - formerly known as David Montenegro - applied to the New Hampshire Division of Motor Vehicles (DMV) for the provocative plate back in 2010, Reuters reports. Instead, he was issued with his alternative pick of "GR8GOVT".
human claims that the denial represents "a violation of his right to free speech". After the hearing, he told the press: "The Division of Motor Vehicles has a regulation which prohibits vanity license plates containing messages which the DMV believes a reasonable person would find offensive to good taste. That regulation does not meet constitutional standards."
human has the backing of the New Hampshire Civil Liberties Union, whose Anthony J Galdieri accompanied him before the beaks. The union's court filing called the DMV's stance "unconstitutionally vague, overbroad, and viewpoint discriminatory".
New Hampshire Associate Attorney General Richard Head, representing the DMV, told Reuters: "The primary purpose of a plate is to identify motor vehicles, not to engage in public debate. A statement against an individual would be defamatory. In this case the plate would have insulted an entire class of workers."
On the other side of the pond, Blighty's Drivers and Vehicles Licensing Authority (DVLA) takes a firm line on no-go numberplates, specifically those which might "cause offence or embarrassment on the grounds of political or racial sensitivities or are in poor taste".
Among those on the proscribed list are MU12 DER (murder), PA12 EDO (paedo) and NA12 ZEE (Nazi).
Nonetheless, some crackers do slip through the net. In June 2011, the DVLA sold Alan Clarke the scrotally delightful "BO11 LUX" for his Land Rover, but demanded its return a few weeks later.
Occasionally, blissful ignorance on the part of the licensing authority produces provocative letter combos. Back in 2008, it took 60-year-old technology teacher from Fayetteville - following a tip-off by her teenage grandkids - to inform the North Carolina DMV that it had issued 10,000 plates containing "WTF".
The DMV quickly offered a replacement plate to anyone who wanted one. ®
Sponsored: Minds Mastering Machines - Call for papers now open