'Shared databases are crap' Oracle reveals shared database management suite
'Easy' conversion from single to multiple instances, says Damascene Larry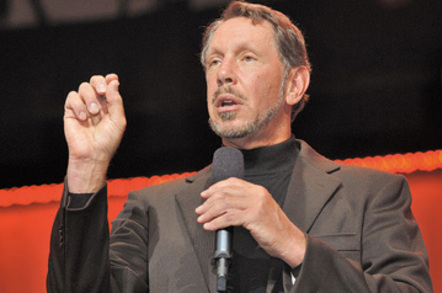 Oracle, whose CEO Larry Ellison once slagged off multi-tenant clouds, has now released software to manage those very same multi-tenant databases.
Ellison's database giant slipped out Oracle Enterprise Manager 12c this week, updated to administer multi-tenant instances on an Oracle 12c database.
Oracle Multitenant is an option in Oracle's 12c database that lets you turn an existing Oracle database into a multitenant container – without making changes to the apps. The multitenant option was introduced this summer with the 12c database.
It was Salesforce.com who pioneered the multitenant model of having one database with lots of secure partitions used by lots of different users.
It's a model that Ellison previously derided, despite the fact Salesforce is actually built on an Oracle database.
In October 2011 Ellison dismissed multitenancy as both being out of date and posing a security risk to users. Virtualisation, said Ellison, was the architecture of "modern clouds."
Larry then surprised world+dog one year later, in October 2012, saying the Oracle 12c database would not just be multitenant, but – lo! – "the first multitenant database in the world."
This wasn't Oracle's only about-turn on cloud. Since then, Oracle's gone from pimping cloud ads to developing and trying to flog its own cloud services. Also, it's partnered with Salesforce and fellow hosted rival NetSuite.
Oracle Enterprise Manager 12c is the latest arrival with Oracle's management software rolled out to work with Oracle Multitenant.
The idea is you can now manage database-, infrastructure- and platform-as-a-service, with Oracle as the plumbing.
Enterprise Manager lets you set-up, test, provision and manage multitenant instances, and set up metering and charging. The company claimed it provides an "easy" migration path from existing versions of its database to the multitenant version.
Among the new features is a DBaaS rapid start kit, to automate the fast creation of a database cloud using database pools, zones, service templates and self-service users.
Oracle Enterprise Manager 12c lets you also run automated functional regression tests, to trouble shoot problems during set up of your Oracle database service.
Generic ZFS file systems are also now supported in Oracle's Snap Clone feature. This lets you clone a database of any size, according to Oracle, within minutes – rather than hours or days.
Other improvements include a range of tools to help manage and configure Oracle's cloud-in-a-box and database-in-a-box ExaLogic and Exadata machines.
Java workloads can now be consolidated using a consolidation planner and automated workflows on the Exalogic Elastic Cloud. There's pre-created plans for resource management and to manage multi-rack configurations on Exadata machines, plus support for the Oracle VM 3.2.3 to import Guest VMs and manage Oracle VM clouds in multi-NIC environments. A new management console lets you manage WebLogic Server, GlassFish Server and Oracle Tuxedo using a single pane. ®
Sponsored: Minds Mastering Machines - Call for papers now open