EMC adds Syncplicity updates to its feature overload to-do list
Now has six major projects to deliver by year's end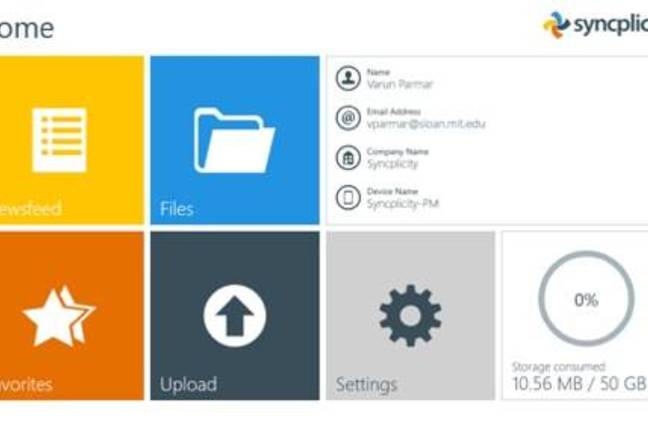 Just when EMC wanted to proclaim an updated Syncplicity secure file sync'n'share product, it sued Pure Storage for poaching EMC staff whom it accused of taking confidential information using … yes, you guessed it … Syncplicity.
The gory details are detailed in the EMC legal document which you can download from the article above.
EMC Isilon MobileIQ provides mobile access to home directories and files shares. An EMC blog states: "Users will now be able to access their Isilon-based home directories and fileshares from their Syncplicity mobile app, with or without an EMC Syncplicity account … In the future, EMC will extend this feature to additional storage solutions."
Syncplicity mobile apps have been redesigned and we have:
New mobile user interface
Secure Mobile Editing of documents without leaving the Syncplicity secure file system
Improved file navigation system
Shared Link Tracking that shows a user the location of every file download and an activity log of how users are accessing files that have been shared with them
Syncplicity Insights - Syncplicity apps for iOS and Android gives collaborators behavioral data on how users are accessing files
"Behavioural data" for collaborators sounds sinister. It's probably something to do with giving team members data on who has accessed shared files and maybe information about what they've done with them – very Big Brother-ish, but necessary in business.
Syncplicity security features have been upgraded with group-level policy control. This means "different policies for sharing, security, desktop, web and mobile can be applied to different user groups like marketing and engineering. Policy sets are 'ranked' so the system knows which policy to apply to a user that exists in multiple groups."
With rights management controls, users can also set access type permission levels on files; read/write, copy, print, watermark, offline access, and screen capture. Permission levels can be varied for different locations.
There are Syncplicity Storage Vaults coming which let admin staff "store content in a public cloud or private cloud on-premise — based on user, group, folder file or content types."
The actual storage arrays used can be EMC's Isilon, Atmos, VNX/VNXe storage arrays, VIPR front-ending arrays, or third-party storage solutions, via NFS3.
All-in-all, Syncplicity management facilities are getting a hell of a lot more capable but also, inevitably, Syncplicity administration becomes more complex, possibly to the point of feature overload. As a side example of this, look at the new feature delivery schedule:
EMC Isilon MobileIQ will be available before the end of the year
Storage Vaults will be generally available, but only for Enterprise Edition customers, before the end of the year
Right Management control is available for Enterprise Edition customers (only) in a Controlled Preview this quarter, with pricing and availability set to be announced in the first half of 2014
Group Level Policies are available immediately for Business Edition and Enterprise Edition customers
New Mobile Apps for iPad and Android will available to all users in the iTunes and Google Play app stores in December
Simple - right? ®
Sponsored: RAID: End of an era?