Heins didn't have the beans. Can comeback king Chen fish BlackBerry out of jam?
Time to burn the platforms...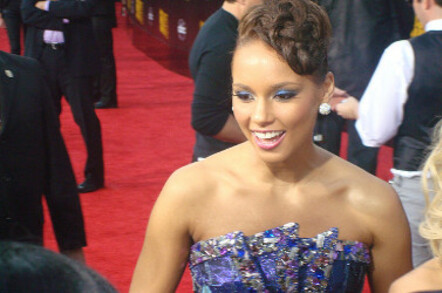 Analysis BlackBerry's plan for rebirth using the dream team of Alicia Keys and chief executive Thorsten Heins has failed. Sybase turnaround king and CEO-of-the-moment John Chen is now its new great hope.
Heins lasted less than two years in the hotseat at BlackBerry. He was named CEO in January 2012, taking over from co-CEOs Mike Lazaridis and Jim Balsillie.
During Heins's 21 months, we've had: a new mobile operating system, the Z10 handset; the BlackBerry Messenger (BBM) for iOS and Android; a corporate rebranding from RIM to BlackBerry; and Alicia Keys named as global creative director.
But neither new products nor corporate vanity projects seemed up to the task of rescuing the company formerly known as RIM.
Heins also cut nearly 5,000 staff, while piles of unsold Z10s resulted in a write-down producing nearly $1bn in losses. Market share, meanwhile, almost completely dried up.
Not long ago, BlackBerry was shopping itself to Facebook, Google, SAP and Cisco for a buyout... but its board didn't receive any better offers by the deadline on Monday 4 November.
Android and Samsung, meanwhile, have consumed the market. Even Microsoft is growing and looks more certain than ever to become the third major smartphone provider, the position Microsoft CEO Steve Ballmer said was the goal.
Why has the board of a struggling device-maker axed its CEO and reached into the unsexy world of enterprise sector from the late 1990s and 2000s to save it?
And, what can we expect?
Can the Sybase saviour rescue BlackBerry?
Chen was CEO of Sybase from 1998 to 2010, when the company was bought by German ERP giant SAP for $5.8bn.
Sybase had been one of the flag carriers of the revolution in business computing and client-server computing through the 1980s and 1990s.
Founded in 1984, Sybase was among the first technology companies to build a standalone relational database using rows and tables coded using SQL.
It went toe-to-toe in those early days against Ingress and Oracle.
Relational today is a $28bn market, but where's Sybase? Inside SAP.
History and poor execution ruined Sybase's chances. In 1992 it was making $265m in revenue, a year later that had doubled to $427m, and by 1996 it had broke the billion-dollar barrier, with $1.01bn in sales.
Chen came in in 1998 following an accounting scandal in its Japan subsidiary that set earnings back for the following year to below the billion-dollar mark.
But dodgy numbers in Japan weren't the thing that really did for Sybase – although the CEO had to go, as is the rule of these things. Quarterly losses were growing as the business went elsewhere, to Microsoft and Oracle.
Although the company was founded on engineering excellence, it appeared to have poor sales judgment. Sound familiar? It released database product after database product for different platforms – DEC, IBM and Unix.
Here, Sybase had already made two critically bad business decisions that let the barbarians in the gates. First, it had turned down the chance to fine-tune its database for SAP, a decision that opened the door to Oracle, today the industry's biggest relational database company.
The other problem was that Sybase licensed its SQL technology to Microsoft, a move that armed the one-act PC operating system and aspiring apps-maker to build to SQL Server, first on OS/2, then on DOS, and then, finally, on Windows. SQL Server is today one of Microsoft's best-selling products.
Where does a database-maker go when the its getting squeezed out by two giants? It finds a niche. Chen cooked up Unwired Enterprise, connecting mobile devices to databases, with workflow management and back-end integration.
The payoff for Sybase was when SAP bought it in 2010, turning it in a platform for its wireless business to connect business handsets to its ERP, CRM and BI servers.
1998 all over again?
The parallel is strikingly similar for BlackBerry. While there are no accounting problems, there is some debt, and the company has racked up losses. Like Sybase, it is also caught in a vice. Both as a handset-maker and a mobile OS it is getting squeezed: by Android and Apple on all fronts, and by Samsung in handsets. The rise of Microsoft offers the prospect of even less room for manoeuvre.
Transformation by dotcom bubble-dodger Chen could be the answer.
Chen said Monday:
BlackBerry is an iconic brand with enormous potential – but it's going to take time, discipline and tough decisions to reclaim our success. I look forward to leading BlackBerry in its turnaround and business model transformation for the benefit of all of its constituencies, including its customers, shareholders and employees.
Tough decisions is right, and clearly the old ways cannot continue as they did under Heins. All BlackBerry did was postpone the inevitable for 10 months. But what does Chen turn around and what's this new business model?
Chen has ruled out getting shot of the handset business, so it seems BlackBerry can focus on its rather nice and high-quality QNX-based embedded operating system.
In a world of Android, which is free to license, what would Blackberry do with its operating system - who could it interest in licensing it?
What will Chen do?
Unlike Sybase, BlackBerry doesn't even have that much of a product line to streamline. There aren't sales, marketing and development efforts for the same product on different operating systems; Blackberry has just six handsets.
Niche was part of Chen's Sybase play, but which niche can BlackBerry mine? The Canadian firm is losing the consumer war ,so that potentially leaves business – but Android and Apple are there, too, with Microsoft also now gunning for the pockets of the suit-wearing commuter.
The enterprise does provide a fall back option: a substantial number of companies continue to use BlackBerrys and there's a huge existing install base of Blackberry 7 handsets that will need supporting. Further, these are fed by the Blackberry network, servers that push messages to devices and deliver emails and collaboration from Microsoft's Exchange and IBM's Lotus.
That network is secure, too, with strong password locks, automatic remote wiping, AES encryption of data on the device, and data transport protection. It's a redoubt in a world of Bring Your Own Device (BYOD), where hackers and virus writers are writing malicious code for consumer phones.
Thanks to this, BlackBerry handsets have become a key tool for business users and hundreds of thousands of government staffers. What's the preferred handset of Barack Obama and David Cameron, after all? Yup.
Stock analyst Trefis values this push email business at 36 per cent of its total valuation for BlackBerry.
It's a valuable asset because it's a network with an existing set of users.
This directly correlates with Chen's experience with the Unwired Enterprise from Sybase (known today as SAP Mobile Platform), but there is a catch. The enterprise business must grow and avoid the fate of becoming a simple maintenance operation that draws down over time as old BB7s are turned off.
If not enterprise, what are its other options? BB handsets running Blackberry's QNX-based operating system are simply not selling. Building your own operating system is costly, a cost which is not being offset by sales. The ecosystem of apps and app writers that have attracted consumers to Apple simply hasn't materialised for BlackBerry.
What to do?
Is it time for Chen's very own burning platforms moment where he kills off both of these birds?
Will he decide survival lies in cutting costs while tapping an existing pool of developers and partners – killing off the company's own software platform and siding with either Android or Windows Phone from Microsoft instead? Neither of the two mobile OSes are particularly attractive in terms of BlackBerry retaining its status as a maker of quality phones or as independently setting its own technology direction. A tough decision indeed – something market-share and nose-dive champ Nokia has confronted.
The world of enterprise was simple and slow-moving compared to mobile. Chen pulled Sybase up and remained in situ until he brokered a tidy sale. But mobile takes no prisoners: it moves fast and failure is rewarded with the chop. The fact that BlackBerry's board and investors axed Heins after less than two years shows you what's a stake and how serious things have become for the once-thriving company.
If you think Chen has all the answers and we can expect Sybase Part II, think again. ®
Sponsored: Minds Mastering Machines - Call for papers now open