The future of storage is a horror show - just ignore the biz strategists
The simple days are long gone, folks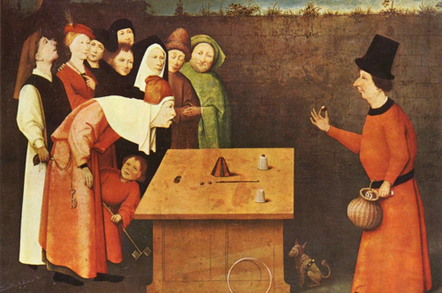 Blocks and Files Storage was actually simple, before disk-to-disk backup came along and started spoiling the party. Now we need a storage magician to take the horror out of the storage horror show.
Basically there were monolithic arrays at the high-end, dual controller arrays in the middle, and JBOD variations at the bottom; all disk drive arrays. You accessed data blocks via Fibre Channel, or files via Ethernet on the arrays and backed up to tapes. End of.
Now? Let's see; we have iSCSI block access, FCOE - remember that? - virtual tape library arrays, deduplicating backup arrays, scale-out filer arrays, unified storage arrays, object storage grids, hybrid flash-disk arrays, and as for backup - don't get me started on data protection.
Too late, I'm already in full flow: replication, either asynchronous and synchronous, snapshots, clones, RAID 5, 6, striping, and object erasure coding.
Then we have thin provisioning, auto-tiering, virtual SANs, caching filer and SAN front-end boxes, VMware poking its nose into the storage area and flash; SSDs and PCIe flash and FlashDIMMs. We have storage inside servers and servers inside storage to run apps faster, sans latency. Oh, and that herd of elephants in the storage room, the cloud and cloud storage gateways.
The classic networked array serving a bunch of servers is getting disaggregated. Performance data is moving to flash, and the flash is moving from SSDs in the array, through flash in the array controller, to all-flash arrays and into servers as PCIe flash cards and FlashDIMMs, with storage memory shared across a set of servers coming.
With that concept who needs a networked storage array at all? Especially if bulk data storage goes to the cloud through cloud storage gateways.
The old certainties have gone away, replaced by massive new uncertainties concerning the direction storage technology will take. There are two fundamentally opposed trends for on-premise storage, convergence and customised storage.
Convergence aims to move different storage use cases onto a single platform, using a software abstraction layer. The ideal is a single storage pony that can do lots of tricks. The opposing trend says we need different storage technologies tailored to different use cases to get maximum performance and efficiency.
Against this background it is virtually impossible for enterprise storage strategists to look over the storage technology field and plot the right course for their organisation long-term, because, in the long term, we don't know where storage is going. One escape from the dilemma is to move to the cloud - but cloud suppliers fail and lock-in is a perennial concern, alongside trust and reliability.
Storage these days is complex and full of doubt about future options. It's a horror show. The old simple storage model is broken and there is no going back. There is no new storage model to replace it, only multiple half-formed alternatives. Storage buying decision-makers have become risk-takers, an uncomfortable situation to be in. Get used to it; the simple storage days aren't coming back, not unless something magical happens.
Anyone seen a storage magician? Anyone? ®
Sponsored: Minds Mastering Machines - Call for papers now open