I survived Spiceworld 2013, heat and all: Here's how I did it
Our man from the North ventures into a humid Texas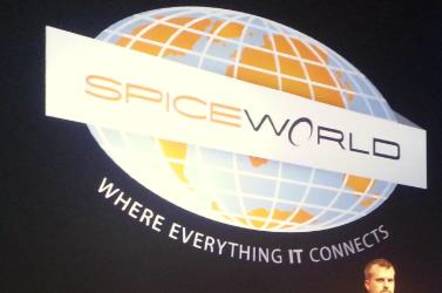 Sysadmin blog My second Spiceworld has wrapped up. I've safely returned home to Edmonton, trading the smothering humidity and overwhelming heat for a far more civilized 15cm of snow. This year's Spiceworld has some differences from the last; the biggest change being that it has moved into the Austin convention center. In many other ways Spiceworld remains Spiceworld, wild and whacky as ever.
The change in venue has led to an air of being a "grown up" convention, at last. There's a real sense of "playing with the big boys" and the move was acclaimed by attendees. The flip side was a feeling that at 1200 attendees the sense of being an insider in one of the IT industry's best kept secrets was now gone. It's far from the "just another cog in the machine" feel of VMworld (see my 2013 VMworld show report), but there was still something disconnected about the whole affair.
Spread out
A bigger venue means more attendees. More attendees means more vendors and more vendors means finding a place to put the booths. Spiceworks could easily have had two or even three times as many vendor booths as it had at this event, however, even at this size it was a struggle to find the right balance between the needs of the vendors and those of the attendees.
Spiceworks' traditional approach to vendor booths has been to have small booths – a single table, perhaps two – scattered about the hallways. In this new venue, this has failed.
Smaller vendors in "startup alley" became second-class citizens. Despite a late-day surge in attendees at the end of the first day, they saw significantly fewer people than the vendors on the main floor, getting nowhere close to reaching , people who attended the event.
Even on the main floor, location, location, location drove people to the booths in front of the chow and left those around the corner with fewer badges to scan and fewer eyeballs to pitch.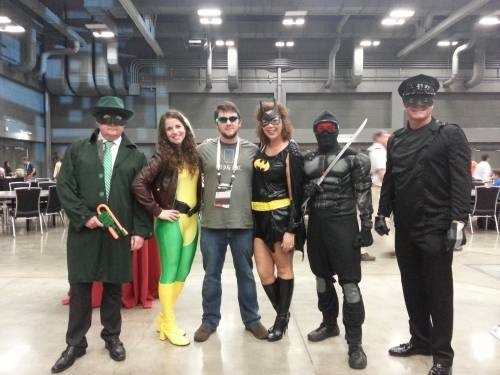 Josh Folland taking some time out for fun with superheroes at Spiceworld 2013
The tightly packed schedule didn't help, either. There were a lot of booths to visit and even though end-of-event prize disbursement was based on having scanned your "passport" at all booths, time was short, the scanner app was fiddly and many attendees simply gave up.
Spiceworld 2014 needs an exhibition hall for its vendors. It also needs to add another day so that there is enough time to squeeze in sessions a person might want to attend as well as time to ask questions of the booth vendors.
Spiceworks' Adam Schaeffer weighs in on the transition: "Moving to the Convention Center posed a number of challenges. Chief among them – how do you keep the intimate, casual feel SpiceWorld attendees love while balancing the growth we're seeing in the conference and demands of the fire marshall (seriously!)."
He continues: "For example, we could have certainly transitioned from vendor table-tops to a more traditional "booth in an expo hall" feel. But when we looked at what vendors and IT pros love about SpiceWorld, it's the casual discussions they have in the hallway, the "approach-ability" you get in the table-top setting, and the importance of connecting vendors and IT pros as they're walking the halls taking in the conference. It's what makes SpiceWorld unique, and we felt it was really important to keep that intimate, casual feel as we transitioned to a larger space."
Quality versus quantity
Spiceworld has always been about quality, not quantity. Booths at VMworld are staffed by up to 20 people, many of whom know nothing about the product in question. They are greeters and pointers, not nerds or product managers.
Spiceworld is different. Those manning the booths here are hard-boiled nerds. When they aren't sysadmins or developers themselves, they're industry redefining content marketing rock stars like Richard Melick from Webroot, Matt Stephenson from Symantec or Katie Drucker at Unitrends.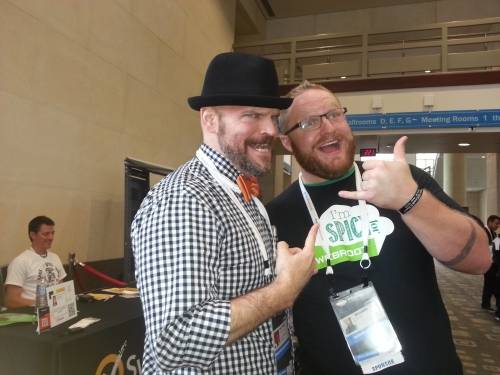 Matt Stephenson and Richard Melick: content marketing gods
These are people who elevate the brand that employs them through excellence in community engagement. At VMworld, they are unheard amidst the din, lost amongst the press and crush of the incapable and the unworthy. At Spiceworld, individuals like this are the norm.
The sessions are top notch as well, drawing praise from attendees and being talked about days after they have occurred. Scaling these in the future will be hard; finding quality presenters is always a problem.
Little things
The attention to detail slipped as the event scaled. Some things were very well done: the food was actually edible, a massive step up from the biohazard refuse VMworld tried to peddle. Others were not: attendee swag bags contained a multitool with a small knife that I am certain made some folks' lives interesting when they got to airport security.
Mistakes of the past were largely dealt with. Registration was smooth and efficient, a stark contrast to last year's rank madness. The bulk of the Spiceworks staff looked better rested than last year; only about a quarter of them looked like they had been hit by a bus before the event had even begun.
The Spiceworld event co-ordinator - whose name has been withheld at Spiceworks' request - was among the walking dead by the end of the event. This is entirely normal for such a role, but I really hope they get her a couple more minions for 2014. She's far too modest to admit it, but she'd done yeoman's work on this event and earned the respect and admiration of everyone present by event's end.
Spiceworks is more than just work: it's good, clean fun. Uncut video here
It's easy to nitpick – being grouchy and cynical is what I get paid for – but the truth is that it was a very well organised, highly beneficial conference. Fellow El Reg contributor Josh Folland felt that he got more professional benefit from Spiceworld 2013 than he did VMworld. I'm not sure I'd quite go that far – the social networking I got done at VMworld will hopefully turn out to be quite valuable – but the value of the two events is close enough for jazz, and Spiceworld is much less expensive.
If I had to pick one thing that made this event easier than VMworld it would be the vendors, regarding after-parties. VMworld was a madhouse of overlapping parties and bizarre interwoven social obligations that left me feeling overwhelmed and burnt out.
Spiceworld kept the madness to a minimum and made sure that you knew where to be to get the full benefit of both the event itself and the organised schmoozing that inevitably follows.
If the event gets much bigger, however, efforts will have to be made to split the "tracks" (marketing and IT pros) into not only separate sessions, but separate afterparties. After all, you can only put so many people in a bar, and a bar full of nerds experiencing stimulus overload is really, really awkward. (Alcohol and country music for the extroverts and Dungeons and Dragons for the Introverts?)
Tickets for 2014 in both London (May 13-14) and Austin (Sep 23-24) are already on sale, starting at $199. If you've the time, it's worth the effort and expense to attend. ®
Sponsored: Learn how to transform your data into a strategic asset for your business by using the cloud to accelerate innovation with NetApp